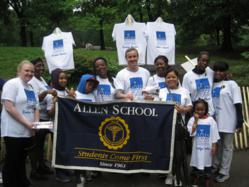 Brooklyn, NY (PRWEB) May 17, 2012
The Allen School, New York's leading healthcare training school, is proud to announce that on Sunday May 20th, they will be participating in the 27th Annual AIDS Walk New York, a 6.2 mile walk to benefit HIV programs and services in the tri-state area, for the 8th consecutive year.
Allen School's Medical Assistant and Nursing Assistant students and alumni will be joined by faculty and administration during the walk. Allen School has raised over $2,500 so far for the AIDS Walk in 2012. That number will continue to grow up until the day of the walk and will be doubled with a match from the school itself. Over the past eight years, Allen School has raised in excess of $10,000 to help find a cure for the deadly virus that has touched so many friends and family of our students and staff.
"Allen School and the AIDS Walk have always been a natural fit because we train Medical Assistants and Certified Nursing Assistants who genuinely care about helping people affected by the AIDS virus," said Jason Teich, Executive Vice President of Allen School of Health Sciences.
You can learn more about the AIDS Walk by visiting http://aidswalk.net/newyork
About Allen School
Allen School of Health Sciences has trained over 70,000 medical professional, including students from the medical billing coding training program, over its 50-plus year existence. You can learn more about becoming a Medical Assistant or Nursing Assistant at Allen School of Health Sciences by visiting http://www.allenschool.edu or by calling 718-206-1300.