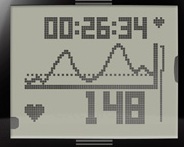 Nothing offers the visual recovery graph that Polar gives those strength training between reps
Bozeman, MT (PRWEB) May 15, 2012
The Polar FT80 has been voted the best strength training watch for 2012 by testers at the Heart Rate Watch Company for the second straight year.
"Nothing offers the visual recovery graph that Polar gives those strength training between reps" says Rusty Squire, President of the Heart Rate Watch Company. He continues, "The ability to custom upload strength workouts constructed in Polar personal training software is a real plus."
Indeed, the Polar FT80 has demonstrated its ability with loads of features like Polar OwnZone and Fitness Test, plus it is the only Polar FT series watch to come with a Polar Flowlink data transfer device that allows users to make full use of the Polar personal trainer software.
The Polar FT80 is PC compatible and also works on Intel-based Macs. This heart rate monitor has the ability to do cardiovascular workouts and speed with distance using the Polar G1 GPS sensor so the user receives heart rate and real-time speed and distance on the face of the watch.
"The versatility of the Polar FT80 is superb and the white screen display works in all light
conditions well" states Squire. He adds, "The construction is rugged in a steel cased back as opposed to the cheaper plastics used by most watches."
The strength training program in the Polar FT80 lets athletes know precisely when they have recovered the appropriate amount from a prior set to receive the most benefit from subsequent repetitions. There is both a visual indicator in the form of a line with heart rate rising and falling, as well as an audible indicator. No other watch on the market today offers these features.
The Polar FT80 also has a fitness test and uses the Polar OwnZone and STAR trainer personal training features.
"We tell folks that if they can find a better strength training watch then by all means buy it and tell us about it, but no one has ever been able to find one" says Squire. He adds, "Polar's 35 years of experience since inventing the heart rate monitor has kept them well ahead of their competition and for gym equipment integration no other manufacturer is even close."
When it comes to heart rate based training Polar may well be the only company capable of topping its own products, so until that time the testers at Heart Rate Watch Company still ratethe Polar FT80 as the best strength training watch on the market today.