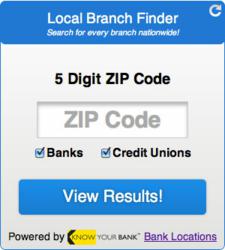 "Local Branch Finder will give website owners another tool to make their users' lives easier"
Miami, FL (PRWEB) May 21, 2012
Knowyourbank.com announced the release of its first publisher tool for website owners today. Local Branch Finder is an easy-to-use search tool covering every existing bank and credit union branch location in the United States. The free customizable widget is easily embeddable and allows website owners to give users the ability to find local branches in their area with just a zip code.
"There are so many financial websites out there that are giving us information to improve our financial well being. Local Branch Finder will give website owners another tool to make their users' lives easier," said CEO and Co-Founder Franklin Ross.
The company said that this is just the first in a suite of tools that they will be providing free of charge to site owners that want to help their users engage their bank or credit union.
"There are quite literally hundreds of financial calculators out there to tell me how much I can earn from a CD, but the tools to actually connect customers with local banks are what really matter," said co-founder and CMO Grant Deken. "The branch model is incredibly important to banks and credit unions. We want to build tools that help build value for their branch locations."
Website owners can build their own customized version of the widget, which allows them to choose the size, color and style to match their existing site design. A code is then generated which site owners copy and paste onto their website or Wordpress blog. Once they paste the code users can start searching.
Users enter their zip code, choose whether they want to see banks or credit unions (or both) and click search. Clicking a branch won't take users away from your site since the widget will open a brand new tab or window to display the branch information.
Local Branch Finder is free and is available to all website owners. To build your own widget, visit http://www.knowyourbank.com/local-branch-finder or to learn more about KnowYourBank visit http://www.knowyourbank.com/about