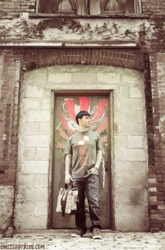 Everybody knows that there's trash out there but you really don't understand the extent until you come and see it
Philadelphia, PA (PRWEB) May 24, 2012
Just over two years after its first cleanup, United By Blue (UBB), the ocean friendly-brand of apparel that removes one pound of trash from oceans and waterways for every product sold, removed its 100,000th pound of trash. The apparel company has organized and hosted 70 ocean and waterway cleanups across 15 US states since May 2010.
The 100,000th pound of trash was removed at a cleanup co-hosted with one of United By Blue's partners, Subaru of America, from the Cooper River in Pennsauken, NJ on April 28. In two hours, over 110 volunteers removed 7,248 pounds of trash, pushing United By Blue's total poundage to 105,955.
"It's hard to believe we collected our first pound of trash just two short years ago," says Brian Linton, UBB's Founder and Chief Trash Collector. "It's even harder to believe that we've made such a dent in ocean and waterway pollution in such a short amount of time. A small group of people really can make a huge difference," says Linton.
Over 14 billion pounds of trash end up in oceans and waterways every year, and over 80% of that trash originates on land. Linton founded UBB to address the problem of ocean plastic pollution.
Today, the company sells a line of super soft organic cotton slub jersey t-shirts, rugged waxed canvas bags, and artisan jewelry handmade by American artisans around the country in collaboration with United By Blue. Instead of donating a portion of their profits to a third party group, UBB has developed the infrastructure in-house to plan and host waterway cleanups.
"Some of our best cleanups are the ones we co-host with our partners, and it would be hard to ask for a better partner than Subaru," says Mike Cangi, Director of Cleanups.
Subaru and United By Blue have joined forces to clean up ocean and waterway trash around the country at co-hosted cleanups. Subaru has also leased UBB two Subaru Outbacks to drive to cleanup locations around the country, and the vehicles have already proved their value at recent cleanups, hauling everything from cleanup supplies and volunteers to hundreds of pounds of trash.
For Subaru, partnering with UBB is about raising awareness of the global pollution problem and addressing it on a local level. "Everybody knows that there's trash out there but you really don't understand the extent until you come and see it," says Todd Lawrence, Promotions and Sponsorships Manager for Subaru. "It's a great thing to do for the community."
UBB has big plans for the summer of 2012, and they expect to work with many more volunteers to remove many more pounds of trash. "The more volunteers we reach, the more likely we are to start changing our behavior as a society," says Linton.
There are three ways that people can support United By Blue, Subaru, and the Blue Movement. The first way is to participate in a cleanup. The second best way is to shop collaborative co-branded Subaru Gear. And the third way is to limit or eliminate your use of single use disposable items, like plastic bags and plastic bottles.
United By Blue distributes a line of organic cotton t-shirts, organic canvas bags, and artisan jewelry through retailers nationwide and online at unitedbyblue.com. Visit them at facebook.com/unitedbyblue and follow them on twitter @unitedbyblue for product and cleanup updates.