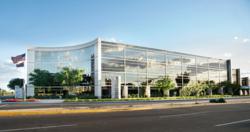 No other industry affects so many other industries like wireless.
Phoenix, AZ (PRWEB) May 16, 2012
The Cellular Telecommunication International Association (CTIA) is an international nonprofit membership organization founded in 1984 to represent the wireless communications industry. Many wireless carriers and their suppliers are members of CTIA, as well as manufacturers of wireless data services and products. The association coordinates the industry's voluntary efforts to provide consumers with choices and information in regards to wireless products and services. CTIA most importantly advocates on behalf of its members at all levels of government.
The CTIA conference drew more than 40,000 registrants, 300,000 square feet of exhibit space, and over 1,000 exhibitors. With keynote speakers, informational sessions, and round-table discussions, Smartcomm saw the latest and greatest happenings in the wireless industry, and heard from national and world-wide field experts.
Participants in keynote sessions included FCC chairman Julius Genachowski, CEO and President of Pandora Joe Kennedy, President and CEO of Cellcom Patrick Riordan, and CEO and co-founder of Spotify Daniel Ek to name a few. Conference round-table discussions included CEO and President of AT&T Mobility Ralph de la Vega, CEO and President of T-Mobile USA Philipp Humm, CEO and President of Verizon Wireless Dan Mead, and CEO and President of Sprint Nextel Corporation Dan Hesse. Closing out CTIA was the conference's final keynote speaker, former President Bill Clinton.
"CTIA hasn't been held in New Orleans since 2005 before Hurricane Katrina," said Sara Dople, Director of Spectrum Policy at Smartcomm. "It was great to be able to come back to the Crescent City and explore the latest in wireless and engage in meetings with key corporations which we look forward to working with in the future. No other industry affects so many other industries like wireless. It's exciting to be a part of a world that will facilitate advancements we cannot yet imagine."
About Smartcomm, LLC
Phoenix-based Smartcomm, LLC provides consulting services and opportunities in the wireless communications industry to both individual and institutional clients. The company specializes in opportunities to acquire spectrum to be used for mobile broadband, through the filing of license applications, participation in FCC public auctions, or acquisitions in the secondary market.