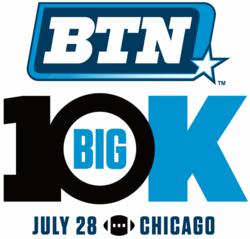 Chicago, IL (PRWEB) May 16, 2012
BTN will kick off the 2012 College Football season in style by hosting the BTN Big 10K, the most exciting race to take place in downtown Chicago this summer. The race is July 28 and will give participants a chance to showcase their passion for the Big Ten and all 12 conference schools. To encourage Big Ten fans of all ages to get involved, BTN will also host a 5K, a family-friendly run/ walk option that will kick off 15 minutes after the 10K begins. Fleet Feet Sports – Chicago is partnering with BTN to put on both races.
The race is the conclusion to Big Ten Media Days, with the Big Ten Kickoff Luncheon set for Friday, July 27, at Hyatt Regency McCormick Place.
Participants are encouraged to show their school spirit with festive costumes and school-inspired accessories. The race gives Big Ten fans a chance to represent their school, compete against all Big Ten universities, and run alongside their friends while racing along the lakefront. It also is an opportunity for Chicago runners to participate in a new and entertaining race.
"The BTN Big 10K is a wonderful opportunity for the Big Ten Network and Big Ten fans in Chicago to kick off the Big Ten football season. We look forward to seeing our fans out there running alongside us and really representing either their alma mater or just enjoying the football-themed race," said BTN Vice President of Marketing Erin Harvego. "Fleet Feet is great partner for an event like this because of their expertise and experience."
The BTN Big 10K will begin and end at Soldier Field's Green Lot. In keeping with the football theme, runners shouldn't be surprised to see referees throwing flags and making calls during the run, Big Ten football players racing along down the route, or an end zone instead of a finish line. BTN will also host a post-race FanFest and Tailgate Party near the finish line. More details on the FanFest and Tailgate Party are forthcoming.
Registration for adults is $45 for the 10K and $35 for the 5K. For children 12 years old and under, registration is $25 for both events. Those who register before July 9 will receive a Big Ten school-specific race shirt. For all information on the BTN Big 10K, the FanFest & Tailgate Party, and a sneak peak at the school specific race shirts, go to: http://www.BTNBig10K.com.
Media Contacts: Elizabeth Conlisk, 312-665-0726/ Elizabeth.Conlisk(at)btn(dot)com, Tina Manzo, 248-939-3104/ Tina.Manzo(at)btn(dot)com
About BTN: A joint venture between the Big Ten Conference and Fox Networks, BTN is the first internationally distributed network dedicated to covering one of the premier collegiate conferences in the country. With more than 800 events, all in HD, the 24/7 network is the ultimate destination for Big Ten fans and alumni across the country, allowing them to see their favorite teams, regardless of where they live. Events include football, men's and women's basketball games; dozens of Big Ten Championship events; studio shows; coaches' shows; and classic games. The network televises and streams more Olympic sporting events and women's sports than has ever been aired on any other network. Original programming highlights activities and accomplishments of some of the nation's finest universities. The groundbreaking Student U initiative provides real-world experience for students interested in careers in sports television. The network is available to more than 80 million homes across the United States and Canada, and currently has agreements with more than 300 affiliates, including AT&T U-Verse, Atlantic Broadband, Cablevision, Charter, Comcast, Cox, DirecTV, DISH Network, Insight, Mediacom, Rogers Cable (Canada), Shaw Cable and Shaw Direct (Canada), Time Warner Cable and Verizon FiOS. For updated information, go to http://www.BTN.com.