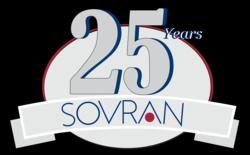 Sovran was there when the PC revolution began and continues to be on the cutting edge as technology takes business users to the Cloud.
Eagan, Minn. (PRWEB) May 17, 2012
Have a blast celebrating the past 25 years of computing history with Sovran, technology solutions provider for business. Festivities begin Thursday, June 14, at 1 p.m. at Sovran headquarters located at 2915 Commers Drive, Eagan, MN 55121. Sovran was there when the PC revolution began and continues to be on the cutting edge as technology now takes business users to the Cloud. Meanwhile, software is transforming into services, which may be customized to individual preferences and needs.
Industry partners including Microsoft, Hewlett Packard, Cisco, Dell, VMWare, Citrix, NimbleStorage,Trend Micro, Barracudua, Veeam and others will be on site and available to answer questions throughout the day. They will demonstrate how new advancements in computing provide a more flexible, mobile and seamlessly integrated experience whether using desktops, laptops, tablets, video or phones. On display will be the latest technologies for system virtualization, business continuity, collaboration, data storage, security and rapid-fast recovery.
In addition, New Horizons Twin Cities will highlight software and IT education courses so that guests may receive a glimpse of the in-depth technology education available for applications and technology from Microsoft, Cisco, VMware and more. Classes feature Microsoft Office software including Word, Excel, PowerPoint and OneNote. New Horizons will also feature technology courses including Cisco CCNA, VMWare, Windows Server and Exchange.
Take a trip back in time as Sovran features computer relics of the past and contrast yesterday's video games with today's more sophisticated varieties. Those who remember, can laugh and reminisce about the commercials and commentary from the former high-tech generation. Win great prizes for your knowledge of technology trivia. Enjoy complimentary food, refreshments, gifts and door prizes, which include an iPad, Xbox, HP Folios and many more. The event is free and open to anyone interested in learning more about technology and what its rapid evolution means to business.
About Sovran Inc.
Sovran Inc. is technology solutions integrator that serves the small and medium-size business (SMB) marketplace in the Upper Midwest. Committed foremost to customer care, Sovran Inc. has been providing high-quality technology products and ongoing services that focus on customer goals since 1987. This year, Sovran celebrates its 25th year of providing technology solutions for business. To learn more about Sovran Inc. and to register for TechFest, visit http://www.sovran.com/techfest.