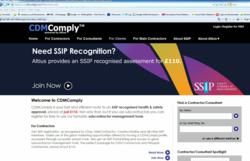 The CDMComply online health and safety assessment service for contractors and consultants provides low cost SSIP accreditation while providing a marketing showcase to help them win new business.
(PRWEB UK) 16 May 2012
CDMComply, priced at £110 for all sizes of company, provides contractors, principal contractors, designers and CDM Coordinators with a CDM 2007 Core Criteria Stage 1 assessment that is SSIP accredited.
The value for money CDMComply assessment service provides a double marketing boost for contractors contractors] and consultants. In addition to being listed on the SSIP Portal, they are also showcased in the CDMComply online directory, which is free of charge.
CDMComply approval is recognised through SSIP by all other SSIP members, including Chas, SafeContractor and Constructionline. SSIP, which is supported by the Health and Safety Executive (HSE), promotes mutual recognition among health & safety assessment schemes.
CDMComply is provided by Altius Vendor Assessment, who also provide award winning supplier assessment for businesses such as Selfridges; Airbus; Morrison's; SGP Property and Facilities Management; Punch Taverns; Wolseley; Arcadia Group and Superdrug.
CDMComply is a public site that can be searched free of charge - by company name or type of work - by anyone seeking CDM approved suppliers. The search will return a CDM profile, including a company overview, with the option of requesting permission from the contractor or consultant to view their health & safety documentation.
Clients and main contractors can also become registered users, a free service, which allows them to create their own private lists of contractors and sub-contractors. This enables them to manage compliance and gain better control and visibility of their supply chain. Alerts for changes in compliance status can also be set up to make monitoring easy.
Ascot Doors, which manufactures and installs made-to-measure high performance doors for the retail, industrial and commercial sectors, is one of the first CDMComply accredited contractors. Bill Duncombe of Ascot Doors, said: "We take health and safety extremely seriously so it's good to be able to showcase our competences on a public site. We are excited about the marketing potential it offers us."
Businesses gaining assurance via CDMComply are given their own unique URL (for example http://www.cdmcomply.com/ascotdoors) that links to their online profile. This enables them to share and display evidence that they are a CDM and SSIP approved contractor or consultant and to showcase marketing information. Those who are already approved by another SSIP partner can share the marketing benefits of CDMComply for an administration fee of £20, which provides mutual recognition and access to the online showcase.
Gary Plant, Managing Director of Altius Vendor Assessment, said: "Economic conditions are tough for building contractors and maintenance professionals so we are pleased to reduce the costs of complying with health and safety regulations with CDMComply.
"We deliver a competitively priced product and fast assessment turnaround because we use award winning online technology that means we can keep costs as low as possible, without compromising on quality standards. Our online service is backed up by a telephone help desk and contractors pay one fully inclusive fee. There are no hidden charges as this competitive price includes the cost of their certificate, all the marketing services, and all assessment costs, even if they need to be re-assessed to achieve the rigorous CDM standards."
Altius also developed the SSIP portal, which brings together the UK's leading health and safety pre-qualification schemes, including CDMComply, and provides verification of thousands of contractors and consultants who have successfully completed a rigorous CDM 2007 Core Criteria Stage 1 assessment. Those that have been assessed by an SSIP scheme can demonstrate to any client or main contractor that they meet the recognised standard for health and safety performance without filling in additional questionnaires.
Further information: http://www.cdmcomply.com, 08445 616 515 enquiries(at)altiusva(dot)com