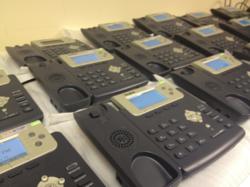 The market is expected to see 40 million IP phones shipped by 2015
Scottsdale, AZ (PRWEB) May 16, 2012
One Stop Voice and other local cloud-based communications companies are finding that the relatively new "cloud market" is growing increasingly more popular in Phoenix. The market is expected to see 40 million IP phones shipped by 2015, according to a 2011 report by Scottsdale-based In-Stat. The following conditions have contributed to this trend:

Increase in Phoenix-area data centers equipped to host cloud-based connections
Increase in overall Internet use has spurred a new generation of telecom providers offering innovative new options for voice services
Companies are taking advantage of revolutionary VoIP(Voice over Internet Protocol) technology
Internet hosted voice services offer companies more functionality, flexibility and cost savings
One Stop Voice first emerged as an information technology company in 2008, but shifted its focus to hosted voice services two years ago due to emerging technology and trends. Since then, other companies have followed suit, with Phoenix becoming a launchpad for companies offering voice hosted services.
"Phoenix area companies are realizing that they can look beyond traditional options and gain more value using a hosted cloud-based system," says Joshua Simon of One Stop Voice. "As a result, the market has skyrocketed locally and companies like ours are experiencing tremendous growth and exceeding anticipated projections. This creates a great climate for Phoenix area entrepreneurs and businesses."
Cloud communications generally refers to data-center-hosted services that are run and accessed over an Internet infrastructure. VoIP is a method for taking traditional phone signals and turning them into digital data that can be transmitted over the Internet.
For additional information regarding business cloud communications with One Stop Voice please visit http://www.onestopvoice.com/
One Stop Voice was founded in 2008 and provides quality low cost Cloud Communications as a Service (CCaaS) to companies throughout the country. By replacing traditional phone systems, One Stop Voice adds functionality and increased efficiency from the corporate office to the mobile work force.