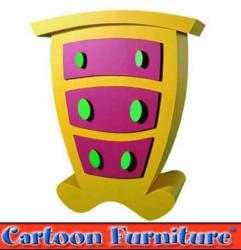 Yucaipa, CA (PRWEB) May 16, 2012
Cartoon Furniture, a whimsical furniture line for kids and adults, gives customers the opportunity to support American jobs and give back to charities with each purchase.
"It was very important to me to have our Cartoon Furniture made right here in Southern California" said Randall Porter, President of Cartoon Furniture. "We have put people back to work and we have more control and can offer our customers more choices by moving it all back here from Vietnam" said Randall. Cartoon Furniture is a colorful furniture and accessories line that is now running at full production in Southern California. Each piece is carefully crafted and ships using a White-Glove Service to ensure safe arrival.
With production based just 40 miles west of Los Angeles, Cartoon Furniture remains committed to keeping all of its manufacturing and distribution functions in the USA. Cartoon Furniture produces a domestic product that outperforms overseas competition on design, durability and value.
Since 2007 Cartoon Furniture has done things a little differently; making people smile through the design, creation, production, and sale of their cartoon inspired furniture is their main objective. Each piece is a product that is both unique and fun, and has the long lasting quality to become a family favorite for years to come. Customers can recreate a fantasy world with the range of animated, whimsical, and colorful furniture and accessories. Each piece is brought to life with loving care by skilled craftsmen in Southern California.
You will be inspired by the array of unique and fun products that you will not find anywhere else. They hope you enjoy them as much as they enjoy making them.
Their products are exciting and fun. All items in their Cartoon Furniture line are designed for safety, durability and reliability, and they are tested to meet their exacting safety standards. They take great pride in their workmanship and their designs and above all, they love to make you smile. Their colorful animated furniture is made in the USA, right in sunny Southern California.
Their team of expert designers including Mr. Porter have over fifty years of combined experience bringing imagination to life. With backgrounds in the movie and cartoon business the designers are experts at creating products that are believable, fun and truly unique. Now you can bring the inspirational dreams of the movies to your own home.
All of their wonderful products are designed to meet their demanding safety standards. Their fit and finish is unsurpassed with no exposed fittings to snag a child's clothes and no small areas to trap the little ones. Their smooth and colorful painted finish is created using only safe and approved non-toxic paints.
Cartoon Furniture also gives back through philanthropic endeavors by donating part of the proceeds from their line of accessories, "Cartoon Kidz". Every month they choose a charitable cause like Children's Hospitals, Children's Charities, and Animal Rescues to give back to.
For more information contact Cartoon Furniture at, http://www.cartoon-furniture.com