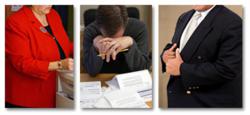 It's critical to prevent or solve the root problem leading to obesity and unhealthy behaviors: financial stress.
Springfield, MO (PRWEB) May 16, 2012
The latest research on obesity and other health-related problems stemming from financial stressors has led the LFE Institute, a leader in unbiased financial education, and PictureWellness, a firm focused on health, nutrition and physical wellness, to work together to fight both sides of the problem: physical and financial wellness.
A new study by the American Journal of Preventative Medicine predicts 42% of U.S. adults will be clinically obese by the year 2030. At the recent CDC Weight of the Nation conference, analysts reported this could add another 32 million obese Americans to the current total of 78 million, and cost an additional $549.5 billion in obesity-related healthcare costs.
"Numerous studies connect chronic personal stress with growing obesity problems," reports Alice Whinnery, CEO of the LFE Institute. "The latest statistics highlight why financial problems are the root cause of much of the stress in America."
The Federal Reserve reported that consumer debt levels rose by $21.4 billion last month, the largest one-month increase in the past decade, and the 2012 Financial Wellness Survey by PricewaterhouseCoopers found that debt and determining how to pay monthly living expenses continue to be significant financial stressors for American workers.
As Americans struggle with debt and rising healthcare costs, a new study this week by The Boston Consulting Group reports consumers now want to save money and get healthy, yet nearly 50% are worried about their financial future, and a third have no savings.
"Stress over how to pay the bills leads to family conflicts, abuse, illness, and contributes to obesity, all of which increase healthcare costs," states Whinnery. "This is why we're so excited to be able to offer a comprehensive solution for employers interested in both financial and physical wellness."
"We help employees get healthy and reduce chronic illnesses such as heart disease, high blood pressure, diabetes, and obesity, which will, of course, reduce healthcare costs for employers," states Maurice Saliba, President of PictureWellness.
PictureWellness was part of the physical wellness initiative at Mohawk Industries last year that reduced healthcare costs of employees who participated in the program from $11,000 to $7,000 per year.
Bryson McCauley is a prime example of how wellness programs change lives. On April 13th last year, his wife asked him to attend the PictureWellness presentation at Mohawk. In 8 months, he lost 80 pounds, dropped 10 pant sizes, and lowered his insulin from 2.75 to 1.25.
"We help employees become physically and nutritionally healthy without drugs, surgery, or the high cost of personal trainers or health clubs," reports Saliba. "We also know it's critical to prevent or solve the root problem leading to unhealthy behaviors: financial stress. LFE's Financial Toolkit reduces stress and related healthcare problems by helping employees build skills, find more money, reduce debts, and save for a secure financial future."
Combining fitness and financial wellness helps employees build a healthier and wealthier life, while reducing costs and generating sustainable results for employers, municipalities, and other organizations.

About the LFE Institute: The LFE Institute provides an unbiased full-service Financial Wellness "Toolkit," which includes interactive on-site and Web-based workshops, personal Money Coaching to help employees build skills, pre- and post-workshop skills assessments, customized financial stress/literacy surveys, and a weekly e-learning series, the Money Minute! LFE sells no products or services other than unbiased education.
About PictureWellness: PictureWellness offers comprehensive on-site or Web-based employee wellness plans to corporations of any size. Their solutions include health risk assessments, exercise classes, nutrition seminars, life coaching, and Webinars on health and wellness topics. They lower insurance costs by lowering the occurrence and/or severity of obesity-related diseases such as diabetes, hypertension, heart disease, and cholesterol issues.
# # #