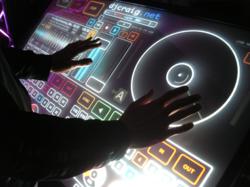 I am so glad my donation is able to help this cause that provides hope to so many!
Irvine, CA (PRWEB) May 17, 2012
An Irvine DJ helped raise money for The Children's Hospital of Orange County (CHOC) at a fundraiser held on May 5, 2012. The Glass Slipper Gala theme was "The Kid In All Of Us" and included many auction items, including a party package that included DJ Craig and his Touchscreen DJ System.
After the poolside silent auction, guests were invited to make their way under the tent where a posh dinner party and live auction awaited. The live auction reached a fever pitch when the party package was announced. The bidding was intense and when the gavel finally came down, the winning bidder had pledged 6,500 dollars. The entire package included party planning, catering, lighting and disc jockey.
The annual gala serves to raise money for children that suffer from life threatening diseases. CHOC is a leader in cutting edge treatments and is planning to build a new, multi-million dollar addition to the main hospital.
DJ Craig said, "I am so glad my donation is able to help this cause that provides hope to so many kids and their families every year." Prior to the live auction, DJ Craig displayed his interactive 42 inch touchscreen as onlookers watched him use it to mix music. This amazing system garnered lots of interest as many attendees said they had never seen anything like it before.
The gala had several hundred attendees that were there to help the Guild reach its one million dollar pledge to children in need. All proceeds from the event go towards building a new 6,400 square foot, post anesthesia care unit slated to open in 2013.
The Glass Slipper Guild sponsors several fund raising events throughout the year to raise awareness and money for children in need of expensive medical care. These include an annual fashion show, regatta, 5k walk and the exclusive gala.