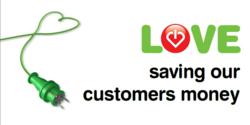 Cut costs on your home and business energy bill today
manchester uk (PRWEB UK) 16 May 2012
Centrica has stated that gas ring wholesale gas prices will be increased in the winter despite its cuts in electricity prices recently. Gas supplied to households across the UK will be more expensive due to the rise in wholesale gas costs.
Centrica said that the price of gas would be 15% higher next winter, and customers could expect an extra £50 in other costs on their home energy gas bill.
It stated that "The trend for retail energy costs therefore remains upwards," Centrica have also showed statistics that the consumption of household gas for the four months to April was up by 1%.
Previously British Gas had announced that they had cut their electricity tariffs by 5% after an 18% rise on the price of gas for British Gas customers in August 2011. Last year electricity prices in august also rose by 16%.
Gemma Bailey marketing Manager of Love energy Savings said "Times are tough, and increases in the price of gas will cause problems for home energy users trying to afford their bills. Love energy Savings are offering options for people to compare their electricity and gas prices and save money. "
Love Energy Savings recognize the strain household energy users are under in trying to keep their costs down and offer free impartial advice to all customers helping their save money on their home energy bills.
Love Energy Savings also help businesses cut costs on their gas and electricity and on average help save each business £1050 a year.
Other companies such as Scottish Power also warn of rising prices in the energy market claiming that higher demands for energy will increase the costs long term despite reducing its prices earlier in the year.
Love energy Savings offer customers a comparison of the whole market for home energy supplies ensuring every customer gets the cheapest electricity and gas for their home. Love Energy Savings aim to provide more transparency to customers on what tariffs are available to them in home and business energy following Audrey Gallachers comments from Consumer focus in the BBC news on consumers and gas prices " Much greater transparency on costs, pricing and profits is needed for customers to know whether they're getting a fair deal."
Love Energy Savings pride themselves in offering excellent customer service and aim to help every business owner and home energy user get cheap gas and cheap electricity.
Visit http://www.loveenergysavings.com for more information call 08000932791.