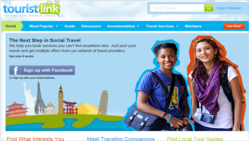 It's a great way for visitors to find out about quality travel blogs they may not be aware of
Salt Lake City, Utah (PRWEB) May 16, 2012
Touristlink.com a social website for travelers announces plans to offers travel bloggers highlighted profiles that will give them a chance to show off their blog along with a feed of recent posts. Touristlink visitors will be able to see a feed of all the important travel blogs in one central location and choose the most interesting articles to read. Travel bloggers will benefit from additional exposure and traffic to their blogs as Touristlink members click through to the popular stories.
The Touristlink.com team believes that travel bloggers are in integral part of the travel community and represent an important element that should be included. Touristlink.com aims to be the first social network for travel that encompasses the entire travel community by bringing travel bloggers, travel professionals (tour guides, hotel owners and travel agencies) and travelers on the same platform. The addition of the travel blogger specific profiles is a continuation of this outreach to a key segment of the travel ecosystem.
A centralized feed of the highest quality travel blogs will be a great discovery tool for visitors to the site. David Urmann, the site founder, commented that "It's a great way for visitors to find out about quality travel blogs they may not be aware of. When we first started looking for bloggers to invite we were surprised by the number of quality blogs that often go under the radar. We hope these new features on Touristlink will give these blogs more exposure and that they can benefit from direct traffic from the our feed page."
The ability to set up a travel blog profile will be via an invite only system. Touristlink.com is currently sending invites to interested bloggers who are encouraged to contact us for an invite. We are planning to go live with the system in early July once the initial invite period is over.
Touristlink.com is a new social network where travelers can interact with each other and with local business owners in a value-added environment, rich with relevant up-to-date content and targeted reviews. Touristlink provides its members a totally new way to find and book services online. Members can request any type of travel service from airport pickups to guided trips to day tours. Once a request is made it goes out to a growing network of travel agents and guides who can then make offers. Travel providers upon receiving the request can review the social profile of the member and make offers targeted directly to the tastes and preferences of the member. Touristlink is managed by GotripIndia the developers of Oceanfront-hotels.net and the parent company of Visitusa.com.