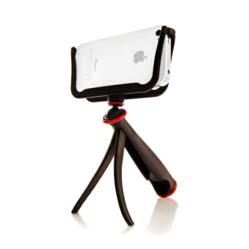 Portland, OR (PRWEB) May 15, 2012
Exceeding its kickstarter funding goal by nearly 300% thanks to 2,200+ supporters, the SlingShot smartphone video stabilizer by WOXOM makes the move to retail well ahead of schedule and even before its successful Kickstarter run ends on May 20th. Woxom will celebrate by starting mass production the very same day and will be shipping product by mid-July to Adorama.com, one of the world's largest online retailers of photographic and video gear.
Adorama.com advance-posted the SlingShot on their website just two weeks into the scheduled 30 day kickstarter project and now has the product in their coveted iphone tool shed. Talks with numerous domestic and international distributors are also underway, but Adorama's embrace has already established Woxom's flagship product in the smartphone accessory market.
With the project ending in under a week, SlingShot pre-orders ($14 each) are still available on Kickstarter.com until the 8pm EST deadline on May 20. After that, limited pre-orders will be available on WOXOM.net. Search: SlingShot.
Nate 'Blunty' Burr, the cheeky Australian reviewer whose YouTube channel boasts over 100,000 subscribers, says of the SlingShot: "I have always been a fan of elegant simplicity in product design, and this is a superb example of it."
The SlingShot from WOXOM is the first insanely affordable, easy-to-use handheld smartphone video stabilizer for shooting video or stills.
Invented by WOXOM President Charles Waugh, a professional photographer, artist and design engineer in Portland, Oregon, the SlingShot transforms the way HD enabled smartphones are used for capturing video by making the camera movement as high quality as the image itself.
The SlingShot, with an anticipated retail price tag of $14.95, rivals the image stability of semi-professional stabilizer systems costing many times more and offers a range of features that make it an indispensible new tool for any smartphone owner.
Website: http://www.WOXOM.net
Press Page: http://www.WOXOM.net/press
Kickstarter project page: http://kck.st/H7NbML