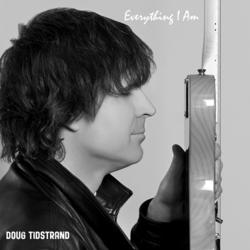 Los Angeles, CA (PRWEB) May 15, 2012
Doug Tidstrand's long-awaited debut album "Everything I Am" is available everywhere May 15th through Blue Chair Music. Tidstrand's ten-track album is the culmination of years of writing and performing, and showcases this LA-based singer/songwriter's true musical talents.
Tidstrand has a long musical history. He received a full music scholarship to Cal State Northridge, which afforded him the opportunity to major in voice and further hone his natural talents. Combining his classical training with his rock style vocals, Tidstrand continued to write, record and perform his original songs. In 2008, he began cultivating material for what would eventually become "Everything I Am."
From title track "Everything I Am" to "I'll See You Through" and "Can't Let You Go," Tidstrand brings the listener on a journey that evokes strong emotion driven from his heartfelt lyrics. Tracks "War is Over" and "I Bleed" tackles heavier issues lyrically, but are complimented by Tidstrand's warm vocals.
"Everything I Am" is a culmination of years of experience, and collaborative efforts with extremely talented and seasoned musicians and lyricists," says Tidstrand.
In addition to releasing his debut, Tidstrand has scored a number of independent films and TV specials, including "Long Distance Princess," and "Empress Vampire." He has also worked with some of LA's finest and most sought-after studio session musicians.
To preview "Everything I Am" visit iTunes.
View the official music video for "I'll See Through You" here.
For more information contact:
pr(at)bfmdigital(dot)com
Catch Doug Tidstrand LIVE on tour!
6/21: Los Angeles, CA @ Molly Malone's
Track List:
1. Everything I Am
2. Bring It Around
3. War Is Over
4. I'll See You Through
5. Superhero
6. Can't Let You Go
7. I Bleed
8. Goodtown
9. 24 Angels
10. Praying For Myself