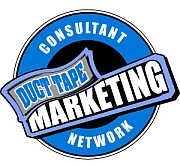 John Jantsch has a real knack for boiling marketing for the small business down to simple but highly practical action steps. His presentations are inspirational, motivational and always full of real-world information.
Mission Viejo, CA (PRWEB) May 21, 2012
John Jantsch, founder of Duct Tape Marketing, is a leading proponent of small businesses and considered to be an expert by Forbes, Entrepreneur, Business Week, American Express OPENForum, the Wall St. Journal, and many others. Seth Godin, author of Linchpin, calls him "The Peter Drucker of small business marketing tactics."
John will be presenting the "5 Ways to Use Online Tools to Drive More Business" which will include:
1. Online calls to action - Ways you can use your website to get people to act offline
2. 020 advertising - How to use online advertising to drive people to your offline business
3. Networked networking - How to use online tools and networks to be more effective
4. Local social groups - How to create and facilitate local interest groups using online tools
5. Online and on the go - How to take advantage of mobile use to drive on the go folks to your business.
The event starts at 8 am with a continental breakfast and networking. The presentations will begin at 9 am and last until 10 am. There will be lots of prizes including a 10-week Marketing Catalyst for one lucky winner.
Cost is $15.00 to attend and will be worth every penny. Sign up at http://smallbusinessweek.eventbrite.com
.