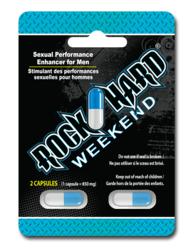 We've worked really hard to open up [this] channel, and it's exciting and rewarding to see it finally happen
Atlanta, Georgia (PRWEB) May 17, 2012
RH Laboratories, the manufacturer behind RockHard Weekend, has announced that the product is now available for purchase in Canada.
Earlier this year, the product received its NHP submission number from Health Canada and established a distribution partnership with Hilary's. Hilary's is a major player in the Canadian marketplace, representing brands like 5 Hour Energy.
The product is currently on shelf at several gas stations and convenience stores across the country. The pills are the same all-natural formula that has become hugely popular in the United States. Distribution is expected to grow rapidly, based on the product's success in the American market.
"For over a year, we've received a steady stream of emails, tweets, and phone calls requesting our product in Canada," says RH Laboratories President, Joshua Maurice. "We've worked really hard to open up that channel, and it's exciting and rewarding to see it finally happen."
About RH Labs:
RH Laboratories manufactures RockHard Weekend, an all-natural male sexual performance enhancer, as well as Pandora, an all-natural sexual enhancer for women. RockHard Laboratories is constantly using innovative techniques to promote their products not only as supplements but also as a lifestyle. In addition to the products RockHard manufactures, they are the exclusive distributor of Forgiven, the world's first alcohol metabolizer.