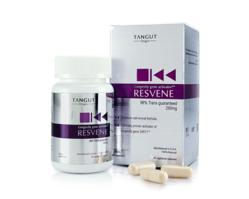 I felt more energized when I woke up each morning and my skin tone and elasticity definitely improved.
Irvine, California (PRWEB) May 16, 2012
Results of a recent survey conducted by Tangut Corporation (Tangut) among 40 popular Asian beauty bloggers showed that 98% of the respondents liked how the company's anti-aging supplement, Resvene, made them look and feel after one month of use.
The surveyed women came from varying age groups and have a wide range of followers. After one month of trying Resvene, they wrote about their individual experiences and posted photos and results on their blogs. Comments included: "noticeable weight loss", "increased energy", "better endurance", "improved breathing", and "tightening and clarity of the skin".
"I immediately felt the difference after using Resvene for just one week. I felt more energized when I woke up each morning and my skin tone and elasticity definitely improved," wrote Angel Bella, a leading blogger with more than 50,000 subscribers.
Resvene is a natural anti-aging and cell-revival formula made from 98% Trans Resveratrol, the highest percentage of bioactive Resveratrol available in an organic product. Resveratrol itself is already a popular ingredient with more than 5,500 scientific studies documenting its health and longevity benefits, including studies conducted by Harvard University.
News media and television shows such as the Dr. Oz show, the Oprah Winfrey show, CNN and 60 Minutes have also widely reported the benefits of Resveratrol such as cardiovascular health, increased endurance, lower blood sugar levels, and improved blood flow.
The uniqueness of Resvene is in the purity of its ingredients, which come from the pollution-free Tibetan Plateau. It has a 100% natural and purity guarantee and is freshly manufactured in the USA under the strictest international guidelines.
Asian Beauty Secret?
Tangut's decision to survey Asian female bloggers created some buzz of its own. The company received inquiries about the "secret" of Asian women to somehow appear much younger than their non-Asian counterparts in the same age category. While this is an often debated topic which has generated answers ranging from genetics, lifestyle patterns, food intake to sunlight exposure, Tangut's survey resulted in an interesting finding: 70% of respondents do not feel that they appear any younger than other ethnicities and are in constant search of products that would help improve their skin tone.
About Tangut USA Corporation
Tangut Corporation is a pharmaceutical-based company that combines the best of nature with the best of science to develop new, innovative products for the health industry. Tangut's unique line of natural products is clinically-proven and is made with bioactive ingredients drawn from the purest organic source in the world – the pollution-free Tibetan Plateau. Its award-winning experts in research and development are recognized worldwide and share the Tangut belief of using creative and sustainable solutions to face today's health challenges and discover new opportunities for tomorrow.
For more information about Tangut USA please call 949-529-2829 or visit http://www.tangutusa.com.