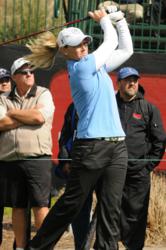 These kids inspire me so I hope that, in a small way, I might inspire some of them too.
Long Beach, CA (PRWEB) May 15, 2012
May is Arthritis Awareness Month. LPGA Professional, Kristy McPherson took time from her LPGA Tour schedule to film an arthritis awareness testimonial, focusing on her story and the mission of the Arthritis National Research Foundation.
To show her support further, McPherson will "Go Blue for Arthritis" by wearing blue during her tournaments in May. McPherson, an Arthritis National Research Foundation board member, was diagnosed at age 11 with Stills Disease, a rare form of juvenile arthritis.
"After six years on the LPGA Tour, I wanted to give back and make an impact on this disease, so I researched and found the Arthritis National Research Foundation," says McPherson, "the Arthritis National Research Foundation is focused on research only and 91 cents of every dollar donated goes into the research. When I was invited to join the Board of Directors, I knew I was home."
McPherson's story is an inspiration to many, especially the 300,000 children, in America alone, diagnosed with juvenile arthritis. After her diagnosis of Stills Disease, McPherson was told she would never be able to play competitive sports again. Her determination and the support of her family led her to overcome the odds and compete at the highest level in professional golf.
Having fought the battle with her disease since she was a child, McPherson has a special place in her heart for the estimated 300,000 children afflicted with juvenile arthritis. "It's not just an old person's disease," she says. "These kids inspire me so I hope that, in a small way, I might inspire some of them too. You can beat this; don't let it beat you and keep focused on your dreams."
Every day, McPherson does what it takes to fight through the stiffness and pain. "I beat the odds, but not everyone does. The autoimmune forms of arthritis are devastating, causing disability and even death. I want to make every American aware of how these diseases affect whole families and that cures will only be found through research," says McPherson.
Click here to view McPherson's juvenile arthritis awareness video and hear her inspirational story.
The Arthritis National Research Foundation, a 501(c) 3, tax-deductible charity, is committed to increasing awareness and funding the brightest young arthritis research scientists. Asking new, innovative questions yields the best opportunity for finding new arthritis treatments and cures. Arthritis National Research Foundation scientists are studying osteoarthritis, rheumatoid arthritis, lupus, and other autoimmune diseases. To join the fight against arthritis make a donation and make a difference.