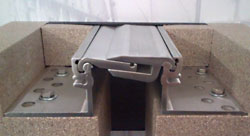 "The APF is a highly durable expansion joint system that can withstand heavy rolling loads and is a low maintenance and high-performance alternative to expansion joint covers with gaskets." Dave Bailey, National Sales Manager
Muncy, PA (PRWEB) May 16, 2012
Construction Specialties (C/S), a leading manufacturer of high-performing specialty architectural building products, has added a new all metal cover system to its expansion joint cover line. The APF/APFW 100-400 Series is an all-metal cover system designed with an interlocking aluminum center plate assembly. The virtually flush finish is ideal for malls, airports and transit centers where significant foot traffic is expected. The system is also designed to withstand heavy rolling loads. Available for joint widths from 1 inch to 4 inches, the APF/APFW can handle loads up to 2000 pounds. The system is pre-assembled at the factory and incorporates raised serrations that provide excellent slip resistance and aesthetics.
C/S is the innovator of most of today's expansion joint cover technology, whether it's for seismic, thermal or wind-sway requirements. They partner with architects, sharing their expertise during the design phase to ensure that the correct covers are chosen for every unique project. Their extensive line of products includes architectural and parking expansion joint covers, dynamic fire barrier systems, and specialty seismic joint systems.
To learn more about the APF/APFW series and other C/S products, please visit their website.
About Construction Specialties
Construction Specialties manufactures and sells specialty architectural products internationally, with over 30 offices and manufacturing facilities worldwide. Its products include interior wall and door protection, entrance flooring, expansion joint covers, louvers, grilles, sun controls, explosion vents, smoke vents, and cubicle track/curtains. The company serves architects and designers, building owners, facility managers and contractors. Construction Specialties, Inc. was founded in 1948 and is headquartered in Lebanon, New Jersey.