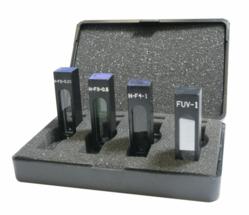 Farmingdale, NY (PRWEB) May 18, 2012
NSG Precision Cells, a frontrunner in the cuvette industry, is honored to announce their unique spectrophotometer calibration standards. NSG offers the only spectrophotometer calibration standard that can calibrate in both the ultraviolet (UV) and visible (Vis) range. Their unique FUV-0.5 calibration filter can be utilized for wavelengths between (200-700 nm) for both stray light and photometric accuracy.
Founded in 1958, NSG specializes in calibration standards as well as the fabrication and design of the highest quality fire fused cuvettes, quality cells and microfluidic chips. Equally, NSG supports researchers so they can get their work done more resourcefully, securely and safely. In addition, to fit the needs of most any laboratory, NSG offers custom manufacturing of Vis, UV and infrared (IR) spectrophotometer calibration standards.
NSG focuses on providing superior products that not only match NIST-930e standards but oftentimes surpasses them. These standards are recognized by the National Institute of Standards & Technology (NIST), USA. As with most spectrophotometer calibration standards it is necessary to be NIST traceable. At NSG, their standards are not only NIST traceable but they are also NIST compatible and meet all NIST guidelines.
Spectrophotometer calibration is a process that is essential for checking light source accuracy. The best way to check for precision is through superior calibration standards. In calibrating an instrument the spectrophotometer is checked to assure that it is operating correctly and accurately. If optimum calibration standards are not used then there is a high potential for inaccurate analysis and results. In effect, imprecise laboratory results cost valuable time and money.
Until recently, laboratories used highly breakable liquid calibration filters that only lasted for a couple of years. Not only were the liquid filters highly fragile but they were also expensive. Additionally, researchers needed to keep detailed logs to maintain accuracy. Yet with foresight and perseverance, NSG decided to change the past restrictions and design a completely new innovative calibration standard. After spending months on research in nanotechnology, NSG produced a revolutionary solid-state quantum resonance filter. In essence, this led to the development of spectrophotometer calibration standard filters and replaced the liquid filter.
These unique calibration standards are for testing the photometric accuracy of spectrophotometers in the UV and VIS ranges and for stray light performance. Some of the many benefits of the calibration standard filters are; optical density = 0.5, never needs replaced, durable and scratch resistant, NIST compatible and traceable, 100% precise calibration every single time, and they work with any spectrophotometer.
Another great feature of NSG Precision Cells calibration filter is that the meet or exceed NIST-930-e standards. Also when they are handled properly these unique calibration filters is that they never require re-calibration.
One of NSG's newest products is the new wavelength calibration standards. It can be used for wavelength calibration in UV and Vis wavelength ranges plus photometric accuracy in UV wavelength range. NSG's WAV-7 wavelength calibration standard has trace-tables that are available for 2nm spectral bandwidths. In addition, NSG can custom make most other spectral bandwidths. Some of the many features of the WAV-7 are as follows: thermally stable, filter never degrades, steadfast reflectance, never needs to be recalibrated, easy to clean and extremely durable.
More outstanding features include NIST traceability and NIST compatibility. NSG also offers a custom made service for these standards so if a researcher can not find exactly what they need, NSG can customer make a filter to fit any labs need.
NSG's irreplaceable spectrophotometer calibration standards are a pioneering advancement in Nano technology. The innovative standards offer scientific laboratories the liberty of never having to recalibrate or acquire another calibration kit. With upmost quality and economical solutions, NSG Precision Cells delivers the highest quality calibration standards on the market. Either meeting or exceeding NIST guidelines, the NSG standard calibration filter is ideal for optimum performance and supreme accuracy.