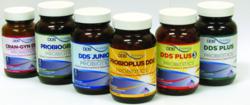 as the industry matures and consumer marketers move into the probiotic arena, it has become more important to have packaging that appeals to consumers. This new design change should help consumers locate and identify our products
Eden Prairie, MN (PRWEB) May 17, 2012
UAS Laboratories will launch a new updated "look" to the consumer marketplace in late May of this year. The new look reflects input from consumers, retailers and partners and makes it easier for consumers to find and identify any of UAS Labs' DDS® Probiotics. The focus of the packaging is a sunrise emphasizing that starting your day with probiotics. The packaging also creates an identity for DDS® Probiotics and simplifies the UAS Laboratories logo. UAS Laboratories was one of the first probiotic companies in the country, started in 1979. Since then, millions of consumers have tried the product. Dr. Dash, the company's founder feels that, "as the industry matures and consumer marketers move into the probiotic arena, it has become more important to have packaging that appeals to consumers. This new design change should help consumers locate and identify our products". The quality and performance of DDS® Probiotics remains a standard for the industry with strict GMP quality standards implemented at the production facility in Wisconsin.
New Look, New Product, New Sampling Program
In March of this year, UAS Labs introduced the first product to incorporate the new look – DDS® Plus 3. The new product uses the award-winning formulation of high potency Probioplus DDS® at a maintenance level and very competitive price. UAS Labs has also introduced a sampling program available to any retailer that carries DDS® Probiotics.
About UAS Laboratories, Inc.
UAS Laboratories, Inc. (Eden Prairie, MN USA), established in 1979, is one of the world's leading biotechnology companies specializing in probiotic research, development, manufacture and marketing. The company manufactures products containing the trademarked, patented, Lactobacillus acidophilus DDS®-1, a probiotic with over 200 studies. DDS® Probiotics are sold to natural products retailers, health professionals, private label customers and as probiotic raw materials and customer specific blends to manufacturers in the US, and over 46 other countries. UAS Labs was founded by Dr. S.K. Dash, the probiotic pioneer, in 1979. Dr. Dash has previously served as a member of the Board of Directors, Vice President and as a member of the Scientific Advisory Board at the International Probiotic Association and is an Adjunct Professor of Nutrition and Food Science at South Dakota State University. Dr. Dash's research and innovations in probiotics have earned 2010 Probiotic Award from Frost and Sullivan to UAS Labs and recognition from the Minnesota State Senate.
For more information about UAS Laboratories, Inc please visit http://www.uaslabs.com.