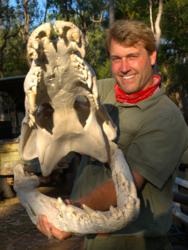 New York, NY (PRWEB) May 16, 2012
Richard Wiese, Host of the Daytime Emmy® Nominated show, Born to Explore with Richard Weise, will deliver the keynote at the inaugural Cynopsis Kids !magination Awards Breakfast on June 7 at Le Parker Meridien in New York City.
As a highly respected outdoorsman, explorer and field scientist, Richard Wiese has traveled to all seven continents. In 2002, Wiese became the youngest President of The Explorers Club one hundred-year history. Richard has tagged jaguars in the Yucatan jungles, led expeditions to the Northern Territory of Australia and was a member of the largest medical expedition ever conducted on Mt. Everest and achieved the first ascent of an unclimbed mountain in Alaska and discovered 29 new life forms on Mt. Kilimanjaro.
The two-hour event will recognize the winners and honorable mentions of the Cynopsis Kids !magination Awards. The full list of Award finalists can be found here: http://www.cynopsis.com/events/kids-awards/
To register for the Cynopsis Kids !magination Awards Breakfast, click here. Space is limited, so finalists and their colleagues are encouraged to register soon!
For questions regarding the Cynopsis Kids !magination Awards Breakfast, contact Marketing Manager Jenn Sredzinski at jenn@cynopsis.com. To learn more about sponsorships and placing a congratulatory ad in the Award Program, contact Vice President of Sales & Marketing, Mike Farina at mike(at)cynopsis(dot)com.
###