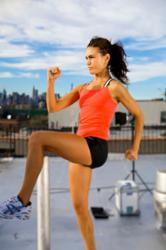 Amanda is an example to everyone of how to improve life and she does an excellent job of sharing her passion with the world.
(PRWEB) May 16, 2012
Sunwarrior, a company located in Southern Nevada that creates raw, plant-based supplements on an international scale, announced today that Amanda Russell has joined their ambassador team.
"Amanda is an amazing ambassador. She came back from a serious injury, using exercise and nutrition to overcome adversity," said Brent Hauver, cofounder of Sunwarrior. "As a Sunwarrior ambassador, Amanda connects us directly with our favorite customers, those focused on a healthy, fit lifestyle deeply seated in proper nutrition. Amanda is an example to everyone of how to improve life and she does an excellent job of sharing her passion with the world. We are happy to work with her."
Sunwarrior seeks out leading professionals, experts, and authorities in the health, fitness, and nutrition fields, including athletes, nutritionists, chefs, and more to perform as ambassadors for the Sunwarrior products and the Sunwarrior mission to illuminate body, mind, and planet.
About Amanda Russell
Amanda Russell was closing in on the Beijing Olympics for the 10,000m when she suffered a career-ending leg injury. Told by doctors she'd never run again, Amanda was determined to recover and continue pursuing her passion for fitness. After two years of intense rehabilitation, she was winning triathlons. Amanda went on to create The AR Program, a holistic mind and body system that focuses on intense dynamic workouts combined with a healthy diet and has been praised for its ability to achieve a lean and fit runner's body without running.
Amanda has also partnered with award-winning Makers Studios to create Amanda Russell TV, a popular YouTube fitness and lifestyle channel that brings the gym to you, for free. Amanda showcases calorie-torching workouts every week combined with insider diet tips and tricks. She has also been featured in numerous fitness magazines as both a contributor and fitness model, including SELF, Runners World, Fitness, Redbook, and Women's Health. Amanda teaches at Equinox Fitness in addition to hosting her popular AR Program Boot Camp around the country and speaking at many other health and fitness events.
Amanda spends her "down" time doing philanthropic work and motivational speaking for organizations close to her heart, such as Girls on the Run, dedicated to educating and empowering girls to prevent future at-risk activities. She currently lives in New York City's West Village with her fiancé, Matt.
About Sunwarrior
Sunwarrior was born on a warm Arizona evening in 2008 during the Sedona Raw Spirit Festival. Three different men with three different dreams met with one desire, to create a company and a product that benefit mankind and the planet mankind occupies.
The three men combined their dreams, their savvy business personalities, and their environmental consciousness to create Sunwarrior, a company committed to making the best plant-based products while elevating humanity and preserving the planet.
Sunwarrior creates healthy, raw, plant-based protein powder, supergreens and mineral supplements perfect for anyone and any lifestyle, not just vegetarians and vegans.
For more information about Amanda Russell visit http://www.amanda-russell.com. For more information about Sunwarrior visit http://www.sunwarrior.com.