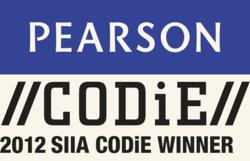 New York (PRWEB) May 15, 2012
Pearson's CourseConnect™ is the winner of the 2012 Software & Information Industry Association (SIIA) CODiE Award for Best Postsecondary Instructional Solution. A complete and customizable post-secondary online, blended and on-ground course solution, CourseConnect offers more than 115 courses spanning a broad range of disciplines of postsecondary study. This is the second time that CourseConnect has been honored with a prestigious CODiE Award; in 2010, the courseware was recognized as Best Postsecondary Course or Learning Management Solution.
Established in 1986, the CODiE Awards celebrate outstanding achievement across the software, digital information and education technology industries. This year, nominated ed-tech products underwent an intensive review by educator judges from around the nation, and the finalists were selected by SIIA members.
"CourseConnect provides instructors who are tasked with putting their courses online with a high-quality foundation to personalize and build upon. CourseConnect can also be used program-wide by colleges and universities that are looking for flexible ways to help students reach their educational goals," said Don Kilburn, Vice Chairman of Pearson Higher Education and CEO of Pearson Learning Solutions. "We are honored that CourseConnect's powerful online and mobile technologies, coupled with its growing library of courses, has been recognized by our colleagues in the education and technology industries with a 2012 SIIA CODiE Award."
Designed using clear course-level outcomes and enabling lesson-level objectives, course content is created by a team of credentialed subject matter experts, faculty advisers, course authors and e-learning instructional designers. CourseConnect's suite of interactive online courses has received the American Council on Education's recommendation for college credit and can be used in any learning management system.
The impact of CourseConnect technology, combined with its online course materials, on both students and faculty is exemplified in remarks from Lesley Keeling-Olson, department chair, Criminal Justice, at Temple College, a comprehensive community college in Central Texas, serving nearly 6,000 students per year.
"Instructors have seen a significant time savings in course preparation time and increased efficiency as a result of having CourseConnect customizable online courses," she said.
Continuing, she said, "Our students enjoy using Pearson's CourseConnect and MyCrimeKit, as they are now able to utilize all of the resources and supplements at their own pace to help themselves truly understand the subject matter."
To support the growth of mobile learning in higher education, CourseConnect recently launched mobile device solutions, CourseConnect on iPad and CourseConnect Study. Developed by leading eLearning instructional and user interface designers, CourseConnect on iPad enables courses and topics to be navigated using simple taps and swipes, creating an easy-to-use web experience in students' hands.
In addition, CourseConnect Study is available for compatible browsers and iOS/Android devices. It is a simple, yet elegant, flashcard application that complements the already robust CourseConnect course library. Utilizing the extensive glossaries that come standard with all CourseConnect courses, users can create their own study deck, shake to shuffle, and keep track of learned terms on the go.
About Pearson
Pearson, the world's leading learning company, has global reach and market-leading businesses in education, business information and consumer publishing (NYSE: PSO). The company provides innovative print and digital education materials, including personalized learning programs such as MyLab/Mastering, education services including custom publishing, and content-independent platforms including the EQUELLA digital repository and Pearson LearningStudio online learning platform.
Media contact: Susan Aspey, susan.aspey(at)pearson(dot)com or (800) 745-8489