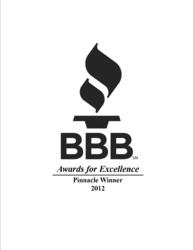 "This award is really about the efforts of the team at DefensiveDriving.com. We work hard to provide world class customer service and high quality online driver safety courses."

Kent Bissell
President, DefensiveDriving.com
Houston, Texas (PRWEB) May 17, 2012
DefensiveDriving.com received the Pinnacle Award at the Better Business Bureau Awards for Excellence luncheon held Wednesday, May 2nd at the InterContinental Houston near the Galleria.
This was the second time DefensiveDriving.com received the Pinnacle Award, the first award was received in 2006 and marks the sixth time to be recognized by the BBB for service excellence.
The BBB Awards for Excellence recognizes businesses and non-profits for their achievements and commitment to overall excellence and quality in the workplace.
Proceeds from the event help fund the BBB Education Foundation which educates consumers about scams and fraudulent business practices in the Greater Houston area.
When asked what it meant to DefensiveDriving.com to receive this recognition, Kent Bissell, President, stated, "This award is really about the efforts of the team at DefensiveDriving.com. We work hard to provide world class customer service and high quality online driver safety courses and this recognition is reflective of the effort. It has been a long six years since we last were recognized with the Pinnacle Award, so we are excited and honored to be recognized for our efforts."
DefensiveDriving.com was founded in 1999 as one of the nation's first online driver safety training organizations. DefensiveDriving.com has certified over 2,000,000 drivers across the country, for corporate fleet training and individual driver safety courses for ticket dismissal and insurance reduction. DefensiveDriving.com was one of the first companies to offer high quality video courses available in an online streaming video format and the company offers web-based education for drivers across the country. The company provides comprehensive driver safety training, including the monitoring and tracking of customer or employee completion. The training is designed to be completed at any time or anywhere the customer has access to a computer and the Internet. The company offers 24-hour, 7-days-a-week, 365-days-a-year support from a team of driver safety professionals, at 888 545 5422 or at http://www.defensivedriving.com.