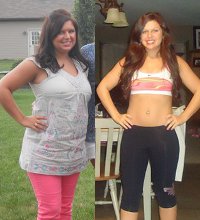 "I am happier and I have a lot more self-confidence when I am very active and eating clean." - Kaylie Walker, Diet.com success story
Brookline, MA (PRWEB) May 16, 2012
Diet.com, one of the web's leading resources for diet, fitness, and nutrition content and tools, has posted a new weight loss success story highlighting one of its members' 25 pounds of successful weight loss.
The success story - the latest in Diet.com's Weight Loss Success Stories library - details how branching out to try new healthy foods and fitness classes, as well as finding a supportive weight loss community on Diet.com, led 5'2" Kaylie Walker to drop 25 lbs, reaching a healthy weight of 117lbs and maintaining that weight loss for over two years now.
Kaylie, a 21-year-old registered nurse and newly-certified Zumba instructor, became a member on Diet.com in September of 2009, and began posting blogs in the site's Diet Blogs community. According to the site's feature story about her, Kaylie began experimenting with more new foods and tracking her food intake using Diet.com's Calorie Counter tool.
"Every evening I logged everything I ate for the day," Walker told Diet.com. "It kept me aware of what I was eating on a daily basis."
As she tried out new foods and recipes, she shared them with her fellow Diet.com members via her blog - helping to foster a supportive community while encouraging other site members to try new foods themselves. One of Kaylie's top diet tips? Variety! "Try eating new things," she advises. "When you are dieting, it is a great time to explore healthy, new foods. I never ate salmon in my life until I gave it a try. Now I'm hooked on it and many other types of fish."
In addition to trying new, healthy foods, Walker pushed her fitness regimen up a notch, falling in love with new group exercise classes and the fitness videos on Diet.com. "I use the fitness videos all of the time to give me fresh ideas for the gym or at home," she tells Diet.com.
Kaylie excelled in her new fitness classes, such that her instructor invited her to teach her own classes at the gym. After becoming certified, Kaylie has spent the last two years teaching fitness classes at her gym, all the while completing her degree in nursing school.
Walker is now both a registered nurse and a certified Zumba instructor who is leasing her own workout space to hold classes.
Throughout her journey she's maintained a journal via her diet.com blogs, amassing a personal library of over 130 blog entries.
"Blogging through Diet.com has helped me a lot by giving me a place to talk about fitness/exercising with people who are interested in it too," Kaylie told Diet.com last month. "I've gained a great deal of knowledge and ideas from fellow Diet.com bloggers during my journey as well."
Kaylie's new lifestyle has not only made her healthier - it's made her happier, as well:
"I've noticed that I am happier and I have a lot more self-confidence when I am very active and eating clean. I am the complete opposite when I lose control over my diet and exercise. Knowing that I feel so much better while active and eating clean keeps me motivated."
For more weight loss success stories and inspiring before and after photos, check out Diet.com's Weight Loss Success Stories library.
About Diet.com:
Diet.com is a multifaceted health and wellness organization that provides quality information and cutting edge tools and services to consumers and businesses alike. Since its founding, Diet.com has been a valuable online resource for dieters and those seeking information on living a healthy lifestyle. As one of the web's leading resources for diet, nutrition, and fitness content and tools, Diet.com has created a platform where consumers are able to set and track diet and fitness goals, browse over 1,000 healthy recipes, learn new exercises, and interact with others in the thriving Diet.com online community. The diethealth YouTube channel (http://www.youtube.com/diethealth) has a library of close to 500 videos, over 107,000 subscribers, and has received upwards of 86 million views. For any inquiries please contact Lauren Alford, Director of Business Development, at LaurenA@diet.com or 919-616-7532.