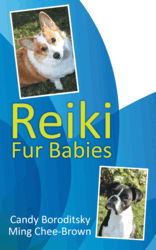 Animals have their journeys to live, just as we do.
LOS ANGELES (PRWEB) May 17, 2012
The secret to self-love is sitting at your feet, chewing on a bone and wagging its tail.
Ming Chee-Brown and Candy Boroditsky understand how animals can help their humans discover a new level of self-appreciation. In their new book, "Reiki Fur Babies" (published by Balboa Press), Boroditsky and Chee-Brown tell how a mutual love of animals brought them together and eventually led them to discover the Reiki healing technique, which they use on animals.
"I met Ming and we instantly connected as friends and people with this mutual appreciation of our animals, who we call our fur babies," Boroditsky says. "We always planned to take our Reiki training and use it to help the animals who bring us so much joy."
Together, Boroditsky and Chee-Brown founded Reiki Fur Babies, a business that provides remote healing for owners and their animals. The book features Boroditsky and Chee-Brown's discovery of Reiki healing as well as the establishment of the business. Through client testimonials and the authors' personal stories, it's meant to serve as a starting point for individuals interested in learning more, says Chee-Brown.
"Animals have their journeys to live, just as we do," Chee-Brown says. "Even so, their journeys can teach us so much about gratitude, love and not being so attached to our personal surroundings. We have the ability to learn this from animals and that is what we hope to do."
For more information, visit http://www.reikifurbabies.com
Connect with Reiki Fur Babies at facebook.com/reikifurbabies and @reikifurbabies
"Reiki Fur Babies"
By Candy Boroditsky and Ming Chee-Brown
ISBN: 978-1-4525-4682-7 (sc) 978-1-4525-4683-4 (e)
Softcover, retail price: $8.99
About the author
Candy Boroditsky was born in Buffalo, New York, and worked as head of the volunteer organization at Garfield Medical Center. She and her husband live in Venice, California, and between them, they have five children, four grandchildren, a goddaughter and two fur babies, KC and Star.
Ming Chee-Brown has a doctorate in pharmacy from University of Southern California. Born and raised in Seattle, Washington, she has always been a lover of animals. She is married and lives in Venice, California with her husband and two fur babies, Sammy Diva and Lucy.
# # #
**FOR IMMEDIATE RELEASE**
EDITORS: For review copies or interview requests, contact:
Lauren Cascio
Phone: 317-366-7897
Email: lcascio(at)bohlsengroup(dot)com
(When requesting a review copy, please provide a street address.)