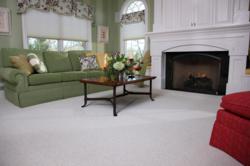 Now, more customers will be able to experience our services and update their homes or businesses with new carpet and flooring
Northlake, IL (PRWEB) May 15, 2012
Empire Today has expanded service into Maine and is now servicing the Portland-Auburn area. Now, Empire's professionally installed products are available to homeowners and business owners in the Portland-Auburn area and other surrounding communities including: Lewiston, Waterville, Augusta, South Portland, Biddeford, Brunswick, Saco, Scarborough, Westbrook, Sanford, Gorham, Windham, Gardiner and more.
The company, known for its iconic Empire Carpet Man character, has been in business for over 50 years and is a full-service provider of professionally installed carpet, flooring and window treatments. The company's growth into the Portland-Auburn area will allow residents and business owners in the area to have a convenient and professional option for updating their homes.
"Now, more customers will be able to experience our services and update their homes or businesses with new carpet and flooring," said Steve Silvers, chief executive officer for Empire Today. "And, it all happens conveniently and professionally from start to finish with in-home consultations, name-brand products, professional installation and award-winning service," he added.
Empire Today provides customers with free in-home estimates, next day installation, quality products, a low price guarantee and financing options. Empire® is dedicated to providing customers with the highest level of customer service and building customers for life. The company sustains its mission by providing an environment where employees feel good about their career in Empire flooring and carpet services so they can perpetuate the passion for which the company was built upon. Empire has served over one million satisfied customers and has been recognized with some of the industry's most prestigious awards for customer service and business ethics. Empire Today currently holds an A+ rating with the Better Business Bureau®.
About Empire Today
Empire Today, LLC, commonly referred to as Empire Carpet, has been in business since 1959 and is known in more than 55 metropolitan areas across the United States for its memorable jingle, Empire Carpet Man character and next day installation service. Empire's product lines include Carpet, Hardwood Flooring, Laminate Flooring, Ceramic Flooring, Vinyl Flooring and Window Treatments for residential and commercial applications. The company's unique shop-at-home service allows customers to select from hundreds of samples in the comfort and convenience of their own home. For more information about Empire Today, visit empiretoday.com or follow the company on Empire Today Twitter.