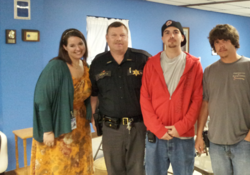 The community was very supportive and eager to learn more about the deadly consequences of the new synthetic drugs that have recently become a presence in their area
Keyser, WV (PRWEB) May 16, 2012
Drug Educators from Narconon Of Georgia traveled to West Virginia in response to what many in the area are calling a "Drug Crisis". While the use of controlled substances is nothing new in the mainly rural state, powerful synthetic drugs sold in local stores under the name "bath salts" are threatening to disrupt the once peaceful community. So far these drugs have sidestepped current state and federal drug laws because they are packaged as "not for human consumption" and thus are not controlled by current drug laws in the state.
West Virginia congressional leaders are trying to quickly change laws which govern the sale of these substances, but the manufacturers of the drug seem to stay one step ahead of the government's efforts. The chemicals used in these products are shipped in from China and India where chemists seem to be constantly changing the formulation in order to side step attempts to control the importation of the drugs.
While the debate goes on in the state legislature local governments are beginning to see the need for increased drug education in order to stave off the onslaught of these new types of drugs. Officials from the Keyser Emergency Medical Services contacted Narconon of Georgia for help in educating the community on the dangers of drug abuse.
The event, hosted by Keyser Emergency Medical Services, was held on April 19, 2012 and included representatives from the community, the sheriff's office, the Potomac Lion's Club, the drug task force, as well as EMTs and Ambulance drivers from surrounding areas.
Narconon representatives spoke to the community leaders about the various types of drugs that are currently being abused in and around Keyser as well as how to identify signs of abuse and overdose. Sheriff Fraley of the Mineral County Sheriff's office was in attendance and spoke with Narconon at length about the community's ongoing efforts to outlaw new synthetic drugs such as K2, also known as "spice" or "potpourri" on the streets.
Narconon also visited Keyser High School where they met with school officials to provide educational videos and brochures on the harmful effects of street and prescription drug abuse. "The community was very supportive and eager to learn more about the deadly consequences of the new synthetic drugs that have recently become a presence in their area" says a Narconon drug educator. The event successfully provided education and prevention materials to the schools, sheriff's department, and emergency response units.
Narconon Of Georgia has been working with communities for the last 11 years and remains determine to help fight the problem of drug addiction by providing quality drug education and rehabilitation.