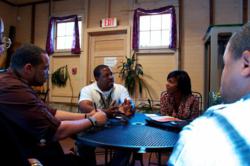 Denver, CO (PRWEB) May 16, 2012
Some are mature and established; others are still in college. They are educators, businessmen, and blue collar workers; they are elected officials, musicians, and social service providers. A few are single; many are family men. While the forces of nature might have never brought together this eclectic group under any other circumstances, a love of community and a strong desire to give back to their own community has drawn over a dozen Denver-based African American men to form a giving circle, the first of its kind in this part of the country.
Calling themselves the Denver African American Philanthropists (DAAP), the men will formalize their commitment publicly on May 15 at The Denver Foundation's Annual Celebration. The group has worked with the Foundation over the past several months to develop the fund, which will be housed at the Foundation, where their contributions will be pooled. They have also consulted with LaDawn Sullivan, Associate Program Officer for the Foundation's Strengthening Neighborhoods Program, among other staff, to develop a good working structure and to begin determining their long-term goals.
The Foundation administers well over 900 donor funds, but none are quite like this.
"We are heartened that these men have forged a bond in the interest of the community," said David Miller, President and CEO of The Denver Foundation. "We believe that philanthropy is not about wealth, it's about giving, and we hope that more people will come to realize that each of us is capable of playing a role in shaping the community in a very significant way, and that The Denver Foundation is here to support each person's philanthropic goals."
Giving Circles are a burgeoning phenomenon, primarily on the East Coast and mostly comprised of female members at this time, but, they are built on traditions dating back hundreds of years to mutual aid societies and other forms of community giving. Another example of an African American male giving circle is A Legacy of Tradition (ALOT). Established in 2006 and based in the Triangle area of North Carolina, its members are collectively engaged and focused on impacting and bridging the societal gaps faced by African-American males in the areas of education, collective giving, and community responsibility.
The spark for the Denver group began when Stephan Gater and Herman White, co-chairs of the giving circle, were connected to the Community Investment Network (CIN), a national network of giving circles and everyday philanthropists led by Executive Director Chad Jones. The two participated in CIN's Leadership Summit, at which giving circles from around the country gathered to share best practices and strategies.
All have agreed that economic status should not be a barrier to involvement with the circle—there are no limits to the amount members can contribute to the pool, but the minimum expected is $365 a year.
"The greatest impact is achieved by selflessness," says Herman White. "We are all driven by knowing that none of us achieve extraordinary feats alone. None of us is as strong as ALL of us."
The group will leverage their philanthropic efforts through an investment of time, talent, and treasure, offering not only financial contributions, but their vast array of professional and technical expertise as well as their voice and their presence to impact and inspire others to address issues that affect the community. To solidify their bonds with each other and to strengthen bonds collectively within the community, the members have already invested volunteer time in the Black Education Summit, presented by Brother Jeff Fard in March of this year, and the Black Male Initiative Summit, held at University of Denver in April.
"The Denver Foundation has worked for years within diverse communities to enhance leadership, inclusiveness, and overall quality of life," said LaDawn Sullivan. "So often people of color are viewed only as beneficiaries of philanthropy, but the Foundation recognizes the rich history and desire of individuals to also give back in a variety of ways. That is why we are working to engage with communities of color in the 'supply side' of philanthropy."
About The Denver Foundation:
The Denver Foundation is a community foundation dedicated to improving life in Metro Denver through philanthropy, leadership, and strengthening the community. Last year, the Foundation awarded over $47 million in grants. The Denver Foundation has three primary roles: stewarding an endowment to invest in meeting current and future needs for the Metro Denver community; managing over 900 charitable funds on behalf of individuals, families, nonprofit organizations, and business; and working with community and philanthropic leaders to address core challenges that face Metro Denver. For more information, visit http://www.denverfoundation.org.
About Community Investment Network (CIN):
The Community Investment Network is a national network of giving circles and everyday philanthropists, founded in North Carolina and rooted in the Southeast. CIN inspires, connects, and strengthens African American communities of color to leverage their collective resources and create the change THEY wish to see. For more information, visit http://www.thecommunityinvestment.org.