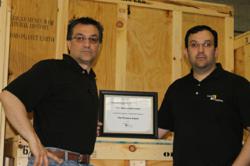 Middlesex, NJ (PRWEB) May 15, 2012
Robert Poirier and Tom Raia, owners of Craters & Freighters of New York & New Jersey won the prestigious Pinnacle Award at Craters & Freighters' Annual Convention Awards Ceremony held on May 5th in Denver, CO. The Pinnacle Award is given to the Craters & Freighters' locations that have achieved revenue in excess of $1,000,000.
Co-owner Robert Poirier states, "We attribute our increase in revenue to our attention to detail and the ability to offer the customer solutions to all of their packaging, crating, and shipping needs. We take pride in offering our customers quality, value, single point of contact, and worry free solutions to their logistics problems."
Additionally, owner Robert Poirier won the Franchise Advisory Council Election for the Northeast Region. Franchise owners are nominated to the FAC by Craters & Freighters' owners, which reside in their region. Once nominated, franchise owners cast their votes to decide who represents their region.
Craters & Freighters' CEO, Diane Gibson adds, "We are delighted to have Mr. Poirier serve on our Franchise Advisory Council because of his passion for our business model, and the packaging, crating, and shipping industry. He understands how marketing and sales work together to increase a company's brand awareness and drive new sources of revenue to our entire network."
About Craters & Freighters of New York & New Jersey
Robert Poirier and Thomas Raia worked together at a Process Equipment Manufacturer in the positions of Engineering Manager and Project Engineer. In 2001, Thomas Raia left his position as Project Engineer to open the Central & Northern New Jersey Craters & Freighters' locations. In 2007, Robert Poirier joined with Thomas Raia to open the Manhattan/Queens Craters & Freighters' location. After 11 years of ownership and the successful partnership, Thomas Raia and Robert Poirier have built a reputable business name in the community and have increased their sales revenue with the expertise of international custom packaging & crating, museum crating, and superior customer service. Thomas and Robert anticipate that the international packaging demand will continue to increase due to the strict requirements for exporting products with lumber containment.
About Craters & Freighters National Network
Craters & Freighters was founded in June 1990, to meet the needs of businesses and consumers for specialty freight handling, including pick-up, crating, shipping, tracking, insuring, and delivery of shipments that are too heavy, oversized, valuable, awkward, and time-sensitive for other shipping agencies. The company serves consumers and businesses in all sectors including telecommunications, electronics, medical equipment, aerospace, bio-technology, heavy machinery, fine art, and antiques.
Craters & Freighters of New York & New Jersey is located at 544 Lincoln Blvd., Middlesex, NJ. The phone number is 866.272.8365.