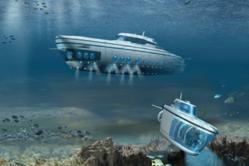 Luxury submarine makers/salesmen from the Persian Gulf to the Pacific Ocean say "fantasy and secrecy" are the prime basis of this new nautical industry
Hollywood, FL (PRWEB) May 17, 2012
With the advancement in technology, oceanic travel has taken a huge leap forward giving billionaires the chance to enjoy luxury yachting above and below the sea by the way of the Seattle 1000 personal luxury submarine from U.S. Submarines.
Guests will have a chance to experience the beauty and scenery above the so called "sea level" combined with the beauty of underwater travel when mother nature makes a turn for the worse.
"A natural progression from the Nomad design is a larger submarine capable of extended surface range and endurance with greatly expanded interior space. With a 36-meter (118') overall length and a 6.5- meter (21') beam, the Seattle class boasts a central twin deck arrangement and ample space for independent staterooms, crews quarters and galley, living and dining areas. The interior space is sufficient to allow for several layout options dependent upon the owner's requirements."
Read more at: ussubmarines.com
A spokesmen for BillionairesBunker.com states that The Seattle 1000 has more than enough space and living quarters to travel underwater yet can travel above water like a luxury yacht powered by it's two 500 horsepower diesel engines which makes it great for vacationers to travel in a whole new way.
When it comes to luxury on the high seas the Seattle 1000 spares no expense but offers not only a unique way of travel but the ability to avoid the rough seas by transforming this luxury yacht into a luxury submarine where guest can enjoy the undersea world without getting bounced around by the sometimes terrible conditions of the seas.
Learn more about the Seattle 1000.