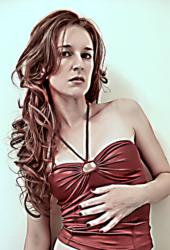 I don't know where we're going but it doesn't really matter cause we're speeding with a passion and we're laughing out aloud. – Nicole Taylor, Dreams and Nightmares
Ponte Vedra, FL (PRWEB) May 19, 2012
Australian music aficionados take note. Musik Radio Promotions, a division of Musik and Film, is aiming at Australian radio with one of their own - Nicole Taylor. Born in Sydney Australia, Nicole is not your average artist or songwriter. Nicole crafts very well written parodies that are art in its purest form.
Nicole's album, "Ambiguosexual", was recently released by Out of the Box Records. It included irreverent, sarcastic, off beat singles, such as, "Bad Date" and "I'm Your Whore". More than a nod to the great Leonard Cohen's, I'm Your Man, Nicole kneels down offering the ultimate submission. " I love Leonard Cohen and particularly "I'm Your Man", says Taylor of her cheeky tribute. I thought I'd attempt to write a parody. I like my songs to have a sense of humor and that one in particular already had a deeply humorous feel to it - plus, Al Yankovic did so well with I'm Fat!"
Nicole's music is quirky, humorous, and lighthearted. One could equate her music to the "dumb" blonde in the corner of the bar who secretly holds 2 PHDs. " You approach thinking you are in for a shallow 'good time', but find a challenging, stimulating, unexpected great conversation! " Blending her unique, lithe, angelic vocals over cheery, spacey instrumentation, her music manages to hold your attention while your mind distractedly wanders, roller skating through the 80's tapestry smiling and nodding dumbly. Before you know what has hit you a snicker comes bubbling up through the silly smile you didn't realize was on your face. Pink cotton candy slaps you across the face and then melts in your mouth leaving you feeling oddly exhilarated, a bit turned on, and wanting more.
Nicole Taylor's music is truly unique, and unique knows no genre. The listener will be dipped in the wicked confectionery that is Nicole Taylor's music.
Each song is fresh and upbeat, but slyly concealing the tragic undertones that always seemed to accompany the heavy synched out music of the 80's pop scene. This is music that not only doesn't take itself seriously, but it isn't too worried about you either.
Musik Radio Promotions, CEO, Stephen Wrench, exclaims, "The first time I saw her album covers I knew I was in for a different experience. The covers alone are so unique they could have their own showing. Then I listened to the witty blend of Nicole's art - her music. If you like unique - if you like true art - if you appreciate life's humor - then you need to listen not once, but several times to the music of Nicole Taylor.
"I don't know where we're going but it doesn't really matter cause we're speeding with a passion and we're laughing out aloud." – Nicole Taylor, Dreams and Nightmares.
Follow Nicole where she is going at http://www.nicoletaylor.com.au/index.htm
For more info on radio promotions go to: http://www.musikandfilm.com/get-promoted.