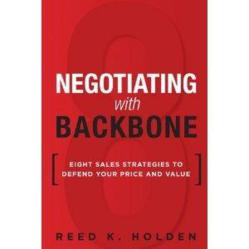 "Procurement relief! Sales can unlock the mystery of procurement price pressure for less than the price of a dinner. Buy it, read it, bank it."

–Jeffrey Gitomer, author, Little Red Book of Selling
Concord, MA (PRWEB) May 16, 2012
Nobody gets into sales expecting a steady stream of smiles, handshakes and 5 P.M. martinis. It's a tough business. But sales negotiation today is more ruthless than anyone a generation ago could have imagined—a minefield of intimidation, head games and even outright deceit.
Put another way, sales just isn't as fun as it used to be.
In NEGOTIATING WITH BACKBONE (FT Press, on sale 5/28/2012), world-renowned pricing expert and Holden Advisors founder Dr. Reed K. Holden details the complete program for today's business-to-business sales professionals who know they must find a way to survive and thrive in this brave new world.
Once upon a time, purchasing decisions were typically made by managers who valued long-term partnerships with their vendors that were both friendly and good for everyone's bottom line. Now, most deals are vetted by procurement teams who have no interests outside cutting their company's costs as much as possible. They achieve this with a thick playbook of hard-nosed negotiation tactics designed to bewilder and force crippling concessions from any unprepared salesperson.
NEGOTIATING WITH BACKBONE equips sales professionals with all the weapons needed to navigate high-pressure procurement scenarios without being intimidated into handing over their product at a fire sale price.
Drawing from Dr. Holden's decades of sales experience and the theoretical expertise that makes him one of the most sought-after pricing consultants in America, NEGOTIATING WITH BACKBONE is packed with actionable information no salesperson who cares about meeting quota should go another minute without, including:

When to fire the customer
How to show beyond any doubt or objection that the price you're offering matches the value of your product
What your product's Foundation of Value is, and why this is the holy grail of a successful negotiation
What it means and what to do when you're negotiating directly with an executive or other decision-maker, and procurement suddenly "takes over"
How to recognize the poker-style "tells" that reveal procurement's hidden agenda
Why, as long as the customer is still talking to you, you still have the power in the negotiation
How to use the "Give-Get Principle" to fend off procurement's last-minute demands for discounts, which they make even after the deal is supposedly closed
Why the dumbest reaction to any prospect's request for a proposal is to begin preparing a proposal
Since the 2008 Recession, cost-cutting has become something between a priority and an obsession for every business. Procurement has taken advantage of this to stack the deck against vendors. In this environment it is absolutely essential for sales professionals—from the field rep to the team leader to the CEO—to know how to stand their ground and ensure their product commands a price that reflects its value.
NEGOTIATING WITH BACKBONE levels the playing field once and for all.
ABOUT THE AUTHOR
A world-class pricing expert and co-founder of Holden Advisors, Reed K. Holden helps companies worldwide in a broad range of industries create go-to-market strategies that drive price leadership and profitable growth. He is an enthusiastic and persuasive advocate of the Value DisciplineSM, a process he pioneered to help companies in highly competitive markets optimize their marketing programs. As a change agent, he helps business leaders put these strategies into action by instilling pricing confidence across their organizations and within the executive ranks.
His latest book — Pricing with Confidence: 10 Ways to Stop Leaving Money on the Table — provides a practical framework and compelling examples for his presentations and keynotes. Co-authored by Reed and Mark Burton, the book converts a wealth of quantitative research into highly practical ideas that give sales, marketing, finance, and pricing leaders an actionable road map for working together to outperform the competition. Reed also co-wrote the 2nd and 3rd editions of The Strategy and Tactics of Pricing, as well as "Profitable Pricing: Guidelines for Management."
ABOUT HOLDEN ADVISORS
Holden Advisors increases clients' revenue and profits by leveraging the financial value of an offering in pricing strategy and process, so empowering sales people to capture the full profit potential while confidently defending prices. Our team delivers global pricing strategy, analysis, processes, and backbone-building sales effectiveness training that drive real impact straight to the frontline of the customer buying experience. http://www.HoldenAdvisors.com.
MORE PRAISE FOR NEGOTIATING WITH BACKBONE
"Procurement relief! Sales can unlock the mystery of procurement price pressure for less than the price of a dinner. Buy it, read it, bank it."
–Jeffrey Gitomer, author, Little Red Book of Selling
"This is a must-read for sales, sales management, and even executive management. The recent evolution of procurement to negatively impact seller margins and therefore sales commissions with complex buying behaviors is real! Holden provides detailed steps to recognize and address these strategies and tactics to maximize profitability. More than a book, it's a reference guide that should be at your fingertips to use daily to coach and mentor the sales organization. It will with me."
–Lewis Miller, CEO and President, Qvidian
"It comes as no surprise that evolving procurement organizations are placing increasing pressure on supplier salespeople. Holden distinguishes among price, relationship, and value buyers; then offers down-to-earth practical approaches for successful business results. The entire sales organization will learn from Negotiating with Backbone; after all, Holden's been there, done that!"
–Noel Capon, R.C. Kopf Professor of International Marketing, Columbia Business School; coauthor, Sales Eats First
SUGGESTED INTERVIEW QUESTIONS FOR REED K. HOLDEN
Going forward, do you foresee procurement as something salespeople will always have to deal with, or will negotiations ever go back to the way they used to be?
What is the #1 thing that causes salespeople to agree to unfavorable deal terms?
In your book, you detail four fundamental buyer types. Are all buyers in exactly one of these categories, or do they ever overlap?
As you describe, bluffing and obfuscation are realities of negotiation now that every salesperson must understand and sometimes practice. In sales, where is the ethical line that separates bluffing from lying?
A common procurement tactic is to demand discounts and concessions after a deal is supposedly closed. How should salespeople respond to this?