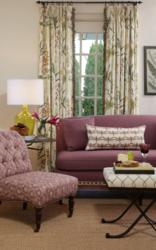 "Window treatments don't have to be over-the-top, dripping in Victorian fringe," Julie states. "Most of us aren't interested in living in period rooms, so we've learned to edit and to adapt our use of trimmings to a less ornate way of life."
Kennett Square, PA (PRWEB) May 18, 2012
When leafing through decorating magazines and editorial spreads that inspire lust and envy, it's hard to miss the special finishing touches and custom details that make a room sing: the beautiful braid along the edge of the curtains, the contrast cord on the chair or the lush loop fringe around the perimeter of the pillow. "These are the dressmaker details that take your furnishings to the next level, that distinguish custom décor from ready-mades," explains Julie Morris, director of custom products and programs for the Calico Corners – Calico Home stores.
Great decorating is all in the details, notes Morris. "Window treatments don't have to be over-the-top, dripping in Victorian fringe," she states. "Most of us aren't interested in living in period rooms, so we've learned to edit and to adapt our use of trimmings to a less ornate way of life." In addition, there are so many great new products on the market—such as beautifully designed trims with modern wood beads, glass baubles, or tailored tapes and braids. "You can add custom touches that fit just about any style, from spare and contemporary to transitional and traditional with flair," adds Morris. Here are new ways and favorite ways to use trimmings on draperies, shades, sofas and pillows:
1. Accent the leading edges of draperies with braid, banding and trim.
This is the perfect place to add a decorative tape, braid, grosgrain ribbon or tassel trim because it will be visible all the way down the panel—and more noticeable than if placed across the hem. Trim may be inset slightly or placed right along the edge.
2. Use trimmings to create color harmony among various elements.
"Furnishings need to relate to each other," notes Morris. Repeat a color in your window treatments in the trim of a pillow or the banding of a chair skirt. Pick up accent colors from silk pillows and repeat in art or accessories. Don't repeat colors to the point of living in a monochromatic room, but do reiterate colors, textures and patterns for harmony in a space.
3. Fabric can become the trim—for banding, contrast welting or even on a pillow. Striped fabrics can be cut on the bias to create diagonal lines or engineered to add horizontal or vertical lines to the leading edge of draperies, to band skirts of chairs or sofas or to create distinctive contrast welting on furniture. Striped fabric can also be cut and mitered in quarters to create distinctive pillows and tableskirts.
When it's hard to find just the right color of ribbon, tape or braid, use a solid-color fabric to create a band around the skirt of a chair, the edge of a bed coverlet or to finish a pillow.
4. Pillows and cushions are made to show off trims—so add some!
Plain knife-edge pillows have no sex appeal, says Morris. "Embellish pillows with trimmings, contrast cording, a mini-flange, distinctive buttons, two rows of braid—the possibilities are endless!" Even a beautiful self-covered welt can be a minimal addition to a bright silk pillow to provide a finishing touch.
5. Outline the perimeter of pillows, sofa cushions or headboards with trims to emphasize the shape and add visual interest. Particularly popular right now are flat tapes in a decorative pattern—such as Greek key designs—applied to the perimeter of a pillow and mitered at the corners. "You can also appliqué grosgrain ribbon in a French key design to create a decorative border on shams or coverlets," suggests Morris.
6. Fabric shades take on new personality with trim. Roman shades, with their flat folds, take naturally to decorative tapes applied along the outer edges and across the hem. Tapes can also be placed further in (usually one to four inches from the edge). Tapes do not work well with balloon shades—however, tassel fringes or light bullion fringes can be applied across the hemline for a special finish.
7. Swags and jabots, valances and cornices beg to be trimmed. Swags that crown a window show off trims beautifully, notes Morris. Cascading jabots should be lined with a contrast fabric that will peek through the undulating folds. Jabots can also be edged with a tassel trim for added interest.
Valances can be edged with contrast welting, a decorative cord, contrast ties, or embellished along the hemline with ball fringe, tassel fringe, ribbon or tape. Box pleats can be fabricated with a contrast color for the inside of the pleat. Tailored pleated valances can feature a patterned tape along the hemline for minimal embellishment.
How much—or how little—you choose to do will be determined by the style of your home, your decorating preferences, what the room needs, and your budget, notes Morris. "Ask yourself whether this room needs to be revved up a notch. Does it reflect the interests of you and your family? Should it be more formal—or less? What would make it more visually interesting? Then you'll know what the room needs," states Morris, "and how to finish it off for maximum effect."
About Calico Corners
Calico Corners – Calico Home stores provide expert decorating advice and free in-home design consultation in more than 90 stores across the country. Consumers will find thousands of designer fabrics for the home at value prices; custom window treatments, blinds and shades; custom upholstered furniture, slipcovers, bedding and more. Thousands of fabrics are available online. For more information or to find the nearest store, visit http://www.CalicoCorners.com or call (800) 213-6366.