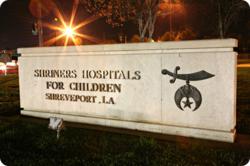 The best way to reach children in the healthcare setting is to impact nurturing and change all around them
Los Angeles, CA (PRWEB) May 16, 2012
Tina Allen, an internationally recognized expert in the field of children's and infant massage therapy, has presented a professional massage chair to the Shriner's Hospital for Children to help launch the hospital's new family-centered care initiative.
Allen, who is also the founder of leading children's health and nurturing touch organization the Liddle Kidz Foundation, presented the massage chair on behalf of Massage Warehouse, an online retailer of massage products based in Bolingbrook, Ill. The Shriner's Hospital plans to use the chair in its efforts to bring family-centered care to the forefront of pediatric services provided at the hospital.
"Through my many years of work with therapeutic massage for children, I have realized the best way to reach children in the healthcare setting is to impact nurturing and change all around them," Allen said. "Leveraging family-centered care is an optimal way to implement effective change in a healthcare facility, and I am happy to help out in any way that I can."
Using the Liddle Kidz Foundation's "Care for the Caregivers" program, the Shriner's Hospital aims to minimize the stress and anxiety of pediatric healthcare. The hospital plans to use family-centered care to help parents and families experience the relaxation and stress relief provided by massage, and in turn they will be able to pass on the benefits of pediatric massage to their children.
"We would like to thank Massage Warehouse for donating the massage chair and Tina Allen for assisting with program development," said Tommie Hazen, Child Life Department Coordinator at the Shriner's Hospital. "Now we are well on our way to relieving some of the parents' stress through therapeutic touch."
About the Liddle Kidz Foundation:
The Liddle Kidz Foundation uses the power of nurturing touch to reach the world's most vulnerable children. The organization's goal is to empower families and professionals to provide nurturing touch in order to build stronger, more loving bonds with children. LKF provides training, education and support for families and professionals, giving them the tools necessary to ensure the safe, professional practice of nurturing touch and developmental movement with infants and children. To learn more, visit http://www.liddlekidz.com