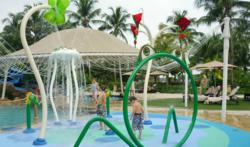 Pointe-Claire, Quebec (PRWEB) May 16, 2012
Vortex will be hosting a free webinar on May 24 at 12 noon EDT to show how a Vortex Aquatic Play Solution can impact business.
By providing safe and fun water attractions, Vortex solutions are a cost-effective way to add a cross-generational recreational activity to resorts, campgrounds, waterparks, botanical gardens, zoos, mixed retail spaces and housing developments.
Owners and operators will appreciate the low cost to operate and the return on investment that a water amenity brings. Poolplay, Splashpad® and Spraypoint solutions help attract families, keep guests on property longer, and provide exciting and refreshing enjoyment at the touch of a button.
Why Hotels, Resorts, Amusement Parks, Zoos and FEC's are installing Vortex Aquatic Play Solutions:
Increased revenue:
A Splashpad®, PoolplayTM, or SpraypointTM Solution will increase profits by increasing occupancy and average room rates. Having a Vortex Solution encourages guests to spend more time on your premises, thereby increasing usage of the property's overall amenities. Plus, there are incremental sales to be captured, such as snack food, beverages and souvenirs.
Competitive edge
Promote the property as the ideal weekend get-away, convention facility, or first-choice family destination. Vortex Solutions draw visitors and provide fun, engaging and interactive entertainment for all ages. The universal appeal of a Splashpad® will entice guests to extend their stay, return, and to recommend the establishment to others.
Splashpads® are cost-effective and worry-free
A Splashpad® is an affordable and simple way to add a water attraction and boost revenue. Fully-automated and user-activated, it is low in operating costs and easy to upkeep. No additional personnel or lifeguard supervision are required. By providing a durable product backed by the best guarantees in the industry, a Vortex Splashpad® delivers long-term value and a great ROI.
Vortex solutions provide:

An exciting water-based focal point
Integrating seamlessly into the surrounding
environment

Active, safe, and accessible discovery play
Spontaneous spray play activity
Please join the free webinar to learn how a Vortex Aquatic Play Solution can impact business.
New for this session: A number of Vortex clients will be speaking about their experience with Vortex Solutions. Please visit http://www.vortex-intl.com/webinar to learn more.
Date: Thursday May 24
Time: 12:00pm Noon EDT
Click link below to register
http://www.vortex-intl.com/webinar
Spaces are limited, please register today!