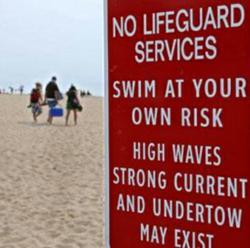 ...you should also be aware of potential hazards and know how to address them in order to enjoy leisure time around water
Neptune, NJ (PRWEB) May 16, 2012
According to the Center for Disease Control (CDC), statistics show that approximately 10 people die each day from unintentional drowning, and there are thousands of injuries from water-related incidents each year. Common factors that increase accident and injury risk while partaking in water activities include lack of supervision, alcohol use, failure to use a life jacket and/or other personal floatation devices (PFD).
"Just using a pfd or life jacket isn't enough, you should also be aware of potential hazards and know how to address them in order to enjoy leisure time around water", said Chief Donald Colarusso, a firefighter for over 24 years and one of the nation's leading suppliers of Fire and Water Rescue Equipment through the website, http://www.allhandsfire.com/cmc-rescue .
To enjoy water activities and reduce the risk of danger there are safety guidelines that can be followed:

Children should always be supervised by an adult while in or around water. This includes swimming pools, the ocean, lakes and rivers, even the bathtub. A child can drown in less than 1" or water.
Regardless of age or ability, swimmers should always use the "buddy system" and take care never to swim alone. Supervised areas with lifeguards on duty can reduce risk and make water fun safer.
It is important not to push oneself by attempting activities beyond one's skill level while swimming, surfing, skim boarding, etc.
Extreme caution should be used when diving. Water may be shallow and there could be rocks, dead submerged trees, or other obstructions that could injure divers.
Barriers and safety zones are enacted for a reason and must be respected.
When swimming off a boat, being aware of water depth and safety considerations of the water should be taken seriously. Also a dependable way to get back onto the boat, such as a mounted ladder should be in place.
A Life Jacket / PFD should always be used when kayaking, on a jet ski or other similar settings. Referring to US Coast Guard and local rules and guidelines is of utmost importance.
Always being aware of water conditions and weather is vital.
While in the ocean, staying clear of jetty rocks and being aware of riptide currents should be a priority.
Those venturing outdoors on a hot, sunny day should be aware of the potential for sunburn and heatstroke. Applying an appropriate degree of sun block and staying hydrated even while in the shade is helpful.
Although many of these safety tips may seem to be common sense, reviewing these tips each Summer with loved ones can significantly reduce the chances of serious accident or injury in and around water related activities.