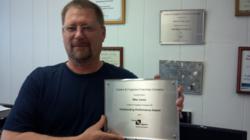 Omaha, Nebraska (PRWEB) May 15, 2012
Mike Jones, the owner of Craters & Freighters of Eastern Nebraska won the 2012 Outstanding Performance Award, the Hallmark Award, and the Franchise Advisory Council Election for the Midwest Region, at Craters & Freighters' Annual Convention Awards Ceremony held on May 5th in Denver, CO.
The Outstanding Performance Award is given to the Craters & Freighters' location that had the biggest increase in sales from the previous year. Jones won the award based on an increase in sales in 2011 by 62% over his sales in 2010. As a direct result of the remarkable increase in sales, Jones also won the prestigious Hallmark Award based on revenues in 2011. This honor is bestowed upon Craters & Freighters' locations that have achieved $600,000 to $1,000,000 in revenue from the previous year.
Craters & Freighters' CEO, Diane Gibson states, "Although Eastern Nebraska is one of our smaller markets, owner Mike Jones is a go-getter when it comes to effectively marketing the location's expert services. Mike and his staff know what it takes to acquire and retain a loyal customer. Their customer service is second to none in the industry, and we are proud to have the Eastern Nebraska team within our network."
Additionally, Jones won the Franchise Advisory Council (FAC) Election for the Midwest Region for the 2012-2014 term. Franchise owners are nominated to the FAC by Craters & Freighters' owners, which reside in their region. Once nominated, franchise owners cast their votes to decide who represents their region.
Mike Jones worked as a data site engineer for a major Tele-Services company in Omaha. In 2004, he decided to purchase the Eastern Nebraska Craters & Freighters' territory. With 8 years of ownership, Mike Jones has a reputable business name in the community and has increased his sales revenue with the expertise of international custom packaging & crating. Mike anticipates that the international packaging demand will continue to increase due to the strict requirements for exporting products with lumber containment. Craters & Freighters is certified for international crating standards.
Mike Jones states, "I attribute the increase in sales to the economy picking up in Nebraska, especially with manufacturers. We added a marketing internship that allowed us to expand our social media footprint, overall Internet presence, and marketing materials."
Craters & Freighters was founded in June 1990 to meet the needs of businesses and consumers for specialty freight handling, including pick-up, crating, shipping, tracking, insuring and delivery of shipments that are too heavy, oversized, valuable, awkward, and time-sensitive for other shipping agencies. The company serves consumers and businesses in all sectors including telecommunications, electronics, medical equipment, aerospace, bio-technology, heavy machinery, fine art, and antiques.
Craters & Freighters of Eastern Nebraska is located at 1051 S. 23rd St., Omaha, NE 68108. The phone number is 402-334-5454.