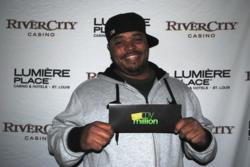 "A 1 in 400 shot at winning $1,000,000 is simply unprecedented odds," added Branchik.
St. Louis, Missouri (PRWEB) May 17, 2012
Lumière Place Casino & Hotels and River City Casino are teaming up to give one lucky winner $1,000,000 this year. With a 1 in 400 shot of winning, there's never been a dual property promotion of this magnitude in the market, much less the history of Pinnacle Entertainment properties.
"Our new 'mychoice mymillion' isn't just a game-changing promotion, it's life-changing event," said Joe Branchik, Vice President of Marketing at River City Casino and its sister property, Lumière Place.
'mychoice mymillion' officially kicked off April 1st. Every Saturday from April 7th through December 29th, 10 lucky guests will win $1,000 and an automatic entry into the $1,000,000 combined property finale drawing on Sunday, December 30th. With the last finalists drawn prior to the big announcement, a grand total of 400 finalists will have a chance to win $1,000,000 guaranteed. Factoring in the weekly finalists' winnings, a combined total of $1,400,000 will be given away during the mychoice mymillion promotion.
"River City Casino and Lumière Place are breaking new ground in gaming with mychoice mymillion. A 1 in 400 shot at winning $1,000,000 is simply unprecedented odds," added Branchik.
Please log onto http://www.mychoicemymillion.com for more information, rules and regulations.
About River City Casino
River City Casino, which opened in March 2010, is St. Louis' newest gateway to an exciting entertainment experience. Located approximately 10 miles south of downtown St. Louis, in the community of Lemay, the multi-use complex includes a 90,000-square-foot casino with more than 2,100 slot machines and 55 table games, including poker, several restaurants and other amenities. An expansion, scheduled for completion in the third-quarter of 2013, will include a 200-room hotel, a 14,000 square-foot multi-purpose event center and a 1,600-space covered parking structure. River City Casino is the sister property of Lumière Place, an exciting urban casino hotel complex that opened in downtown St. Louis in December 2007. River City Casino is located at 777 River City Casino Blvd., St. Louis, MO 63125. Call 888-578-7289 or visit http://www.rivercity.com for information.
About Lumière Place Casino & Hotels
Lumière Place includes a 75,000-square-foot casino with 2,000 slot machines, more than 55 table games, and a dedicated poker room. The resort boasts seven restaurants including Stadium Sports Bar and Grill and Chef Hubert Keller's Burger Bar, which offers everything from fresh-ground basic hamburgers to versions with white truffles and foie gras. Additional restaurants include Cielo, Asia, The Kitchen Buffet & Bistro and Peet's Coffee & Tea. Nightlife attractions include the piano bar, Aqua, and the high-energy lounge, globar. Lumière Place also features a large VIP lounge available to select casino customers.
Lumière Place also includes Lumière Link, a 400-foot tunnel featuring two sections of moving walkway. It provides an easy and secure pedestrian link between St. Louis' central business district, the Lumière Place resort and the Mississippi Riverfront. Also located on the Lumière Place complex are the luxurious Four Seasons Hotel St. Louis, the first and only AAA Five Diamond property in Missouri and the all-suite, upscale HoteLumière which features a four-story waterfall inside the atrium. To learn more about Lumiere Place, please visit http://www.lumiereplace.com, or follow us on Twitter @LumierePlace.