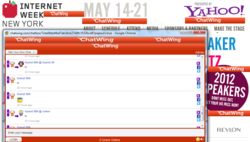 New York, NY (PRWEB) May 15, 2012
Internet week is now on the roll, and many people are looking forward to participate in the week-long event. Parties all over New York are incoming, and they are highly sponsored by Internet powerhouses such as Yahoo and Google. Chat Wing, a free chat widget, has recently been filled with numerous topics related to the flurry of the Internet week. Topics in chatrooms range from Internet week passes to different webinars.
Tons of information will be delivered during Internet week, and event organizers are expecting a lot of people to participate. Chatwing's developers have realized this, so they started sending out updates to their users. In line with updating, other bloggers have seen Chatwing's timed potential, allowing them to join the Internet week event right away. "The chat box became a bridge for those users, bloggers, and web surfers. Internet week parties will become sensational, and we are always ready to join such big events. Today, we are sending out messages in different online communities. Chatwing will become their partner when it comes to information delivery," Says Ivan Diamond, part of the Chatwing development team.
Chatwing may appear as a simple shout box to everyone, but it has already generated many sign-ups during the past months. This is because of Chatwing's straightforwardness and reliability. A lot of bloggers have benefited a lot from Chatwing's Facebook integration. This feature allows users to log in with their Facebook accounts and exchange profile information easily. Internet week participants can also use the chat tool to exchange party ideas and learning tools.
A lot of bloggers have preferred Chatwing because it specializes in providing a new website chat experience. This heightens the way people can communicate. Chatwing is also versatile, as it can adapt to different online communities. The chat tool also offers a high rate of customization that can help bloggers get the online presence they need for their blogs.
About Chatwing.com
Chatwing.com has developed chatting software for websites and blogs. It caters to different online communities due to its high rate of connectivity. Everyone can create a customizable chatrooms in one minute or less. Users have the ability to customize the size, color, and fonts of the chat product. The ability to chat via social media accounts such as Facebook and Twitter enable Chatwing to offer a personal and unique real-time experience to all sites. Chatwing is 100% free and very easy to use.