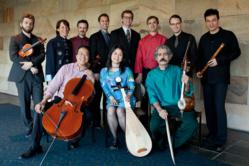 "Returning to Tanglewood, for us, is like coming home. It was at Tanglewood 12 years ago that a group of musicians from around the world first came together to form the Silk Road Ensemble."
– Yo-Yo Ma
Boston, MA (PRWEB) May 17, 2012
Hailed by the Boston Globe as "a kind of roving musical laboratory without walls," the international Silk Road Ensemble draws its members from countries as distant and diverse as China, India, Spain, South Korea, Iran, Japan, Switzerland, Israel, and the United States. With founder, artistic director and fellow Ensemble member Yo-Yo Ma, this eclectic group will gather at Tanglewood in Lenox, Massachusetts, to perform two concerts at Ozawa Hall on June 22 and 24, 2012. Performances begin at 8 p.m. on both evenings.
"Returning to Tanglewood, for us, is like coming home," said Yo-Yo Ma. "It was at Tanglewood 12 years ago that a group of musicians from around the world first came together to form the Silk Road Ensemble. Then we were strangers, and many of us had only the language of music in common. Over the years, we've returned several times to develop new music. So Tanglewood is, if you will, the Ensemble's birthplace, and it remains an inspiration for us."
On both evenings the Ensemble will perform internationally inspired music by composers Giovanni Sollima from Sicily ("Taranta Project") and Sapo Perapaskero from Romania ("Turceasca"). Rounding out the program will be music composed by performing members of the Ensemble: "Shristi" by Sandeep Das from India, who plays tabla; "Muiñeiras" by Cristina Pato from Galicia, who plays gaita; and "Ascending Bird" by Colin Jacobsen, an American violinist, in collaboration with Iranian santur player Siamak Aghaei. (A full concert program follows.)
The Silk Road Project is grateful to its corporate sponsors for their support of these and other activities. Hyosung Corp. is Lead Sponsor of the Silk Road Project 2011-2014. Rolex is the Exclusive Partner of the Silk Road Project 2011-2012.
The Silk Road Ensemble will next perform in the United States in September – October 2012, with concerts in Chapel Hill, NC; Miami, FL; Princeton, NJ; Smithfield, RI; Chicago, IL; and Stevens Point, WI. For more on future programs visit http://www.silkroadproject.org/schedule.
Concert Program:
Silk Road Suite
Wandering Winds Cristina Pato, Kojiro Umezaki, Wu Tong
Ascending Bird Siamak Aghaei/Colin Jacobsen
Xiao Pu An Zhou Chinese traditional, arr. Wu Man
("Chanting of the
Monk Pu An")
Muiñeiras from Galician traditional, arr. Cristina Pato
Cancionero Musical
de Galicia
Taranta Project Giovanni Sollima
Qasida Dmitri Yanov-Yanovsky
Shristi Sandeep Das
Blue Little Flower Chinese traditional, arr. Wu Tong and Li Cang Sang
Turceasca Sapo Perapaskero, arr. Osvaldo Golijov and Ljova
Silk Road Ensemble Members at Tanglewood:
Jeffrey Beecher, bass
Nicholas Cords, viola
Sandeep Das, tabla
Jonathan Gandelsman, violin
Joseph Gramley, percussion
Colin Jacobsen, violin
Eric Jacobsen, cello
Kayhan Kalhor, kamancheh
Dong-Won Kim, jang-go and vocals
Yo-Yo Ma, cello
Cristina Pato, gaita
Shane Shanahan, percussion
Mark Suter, percussion
Kojiro Umezaki, shakuhachi
Wu Man, pipa
Wu Tong, sheng and vocals
The Silk Road Ensemble:
The Silk Road Ensemble is a collective of internationally renowned performers and composers from more than 20 countries. Each Ensemble member's career responds to one of the preeminent artistic challenges of our times: to maintain the integrity of art rooted in authentic traditions while nourishing global connections. Many of the musicians first came together under the artistic direction of Yo-Yo Ma at a workshop at Tanglewood Music Center in Massachusetts in 2000. Since then, in various configurations, Ensemble artists have collaborated on a diverse range of musical and multimedia projects, presenting innovative performances that spring from Eastern and Western traditions and contemporary musical crossroads. The Silk Road Ensemble has recorded five albums and performed to critical acclaim throughout Asia, Europe and North America.
Yo-Yo Ma:
The many-faceted career of cellist Yo-Yo Ma is testament to his continual search for new ways to communicate with audiences and to his personal desire for artistic growth and renewal. Mr. Ma maintains a balance between his engagements as soloist with orchestras worldwide and his recital and chamber music activities. His discography includes over 75 albums, including more than 15 Grammy award winners. In addition to serving as founder and artistic director of the Silk Road Project, Mr. Ma also serves as the Judson and Joyce Green Creative Consultant to the Chicago Symphony Orchestra's Institute for Learning, Access and Training. His work focuses on the transformative power music can have in individuals' lives, and on increasing the number and variety of opportunities audiences have to experience music in their communities.
Mr. Ma was born in Paris to Chinese parents who later moved the family to New York. He began to study cello at the age of four, attended the Juilliard School and in 1976 graduated from Harvard University. He has received numerous awards, among them the 2001 National Medal of Arts, the 2006 Sonning Prize, the 2008 World Economic Forum's Crystal Award, and the 2010 Presidential Medal of Freedom. In 2011 Mr. Ma was recognized as a Kennedy Center Honoree. Mr. Ma serves as a UN Messenger of Peace and as a member of the President's Committee on the Arts & the Humanities. He has performed for eight American presidents, most recently at the invitation of President Obama on the occasion of the 56th Inaugural Ceremony.
The Silk Road Project:
The Silk Road Project is an internationally minded nonprofit arts, cultural and educational organization that promotes innovation and learning through the arts. Cellist Yo-Yo Ma founded the Project in 1998 with a vision of connecting the world's neighborhoods by bringing together artists and audiences around the globe. The Project takes inspiration from the historical Silk Road trading routes, employing the Silk Road as a modern metaphor for sharing and learning across cultures, art forms and disciplines.
Under the artistic direction of Mr. Ma and the leadership of CEO and Executive Director Laura Freid, the Silk Road Project presents performances by the acclaimed Silk Road Ensemble, engages in cross-cultural exchanges and residencies, leads workshops for students, and partners with prominent cultural institutions to create educational programs and materials. Silk Road Connect, the Project's multidisciplinary arts integration approach, inspires students and educators to make connections across all areas of their lives and studies. Developing new music is a central undertaking of the Silk Road Project, which has been involved in commissioning and performing more than 70 new musical and multimedia works from composers and arrangers around the world.
Additional Media Resources:
Contact Heidi Koelz for high-resolution photographs. The following videos are available to embed in online preview stories:
Ascending Bird: http://youtu.be/gs7IDSCqYyQ
Wu Man: Finding a Balance (interview about the Silk Road Ensemble): http://youtu.be/xwQaeRRj2lE
For more information on the Silk Road Ensemble, visit the Silk Road Project at http://silkroadproject.org or Opus 3 Artists at http://opus3artists.com.
###