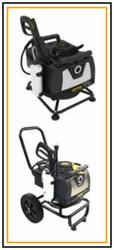 Clayton, NC (PRWEB) May 16, 2012
GXi Outdoor Power, LLC, a manufacturer of outdoor power equipment, has launched its newest line of STANLEY® gasoline engine powered pressure washers. These new pressure washers perform at 2,350 PSI and 2,750 PSI, respectively and are the industry's lightest weight pressure washers in their class, (2350PSI-2750PSI range, medium /heavy duty capacity pressure washer, designed for residential use). Their compact design was achieved by utilizing new, patent pending technology developed by GXi's engineering team. Weighing as little as 47 pounds, the STANLEY® pressure washers are packed with a substantial amount of power.
GXi achieved the dramatic weight and size reductions by integrating the pump into the engine, eliminating many traditional pressure washer components and sharing the engine oil with the pressure washer pump. Traditional designs bolt the pump onto the engine and use separate oil for the pump and the engine.
Gordon Jackson, President & CEO of GXi noted, "This design represents an industry breakthrough. It broadens the appeal of gasoline engine powered pressure washers by combining the ease of use of lightweight electric pressure washers with the greater power, convenience and durability of gasoline engine powered models."
Key product features & benefits:
•Light weight design incorporates a patent pending innovation that integrates the engine and pump providing more power, less vibration, and a longer product life
•Innovative, high pressure, variable spray gun eliminates the hassle of multiple spray tips
•140-173cc (cubic centimeters), 4-stroke, OHV gasoline engine
•Compact design allows for easy storage and convenience
•25 ft. of high pressure hose
•2350 PSI at 2.3 GPM (Gallons Per Minute), with up to 2350 PSI peak for the toughest jobs
•2750 PSI at 2.5 GPM (Gallons Per Minute), with up to 2750 PSI peak for the toughest jobs
The Stanley 2350 PSI and 2750 PSI pressure washers are available now at various online retailers, including HomeDepot.com (http://www.homedepot.com) and Sears.com (http://www.sears.com) starting at $299.00.
ABOUT STANLEY BLACK & DECKER
STANLEY Black & Decker, an S&P 500 company, is a diversified global provider of hand tools, power tools and related accessories, mechanical access solutions and electronic security solutions, engineered fastening systems, and more. Learn more at http://www.stanleyblackanddecker.com.
ABOUT GXi OUTDOOR POWER, LLC.
GXi Outdoor Power, LLC is a Licensee of Stanley Black & Decker. GXi develops, manufactures and sells a range of outdoor power equipment targeted at high-end do-it-yourselfers and professionals. The products are sold under several brands including STANLEY®, Beast® (The Home Depot®) and DEK®. Products include commercial lawn mowers, brush mowers, pressure washers, chipper shredders, snow blowers and generators. GXi differentiates its products through innovative designs, exclusive features, high quality, low cost manufacturing, strong marketing and superior customer service. Headquartered in Clayton, NC, the company employs over 200 employees with worldwide operations in: Phoenix, AZ, Hong Kong, Fuzhou and Liaocheng, China. For additional information, please visit: http://www.gxioutdoorpower.com.