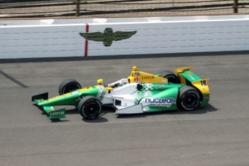 We're pleased to welcome back our partner TDS for the third year in succession," said Keith Wiggins, Lotus HVM Racing team owner. "We have a strong relationship with TDS and are looking forward to continuing to partner with them on business development.
Indianapolis, Ind. (PRWEB) May 16, 2012
Lotus HVM Racing is pleased to welcome TDS Telecommunications Corp. (TDS®) and their guests back the Indianapolis 500 for the third consecutive year. TDS® continues its partnership as the official communications partner of Lotus HVM Racing. The TDS logo will appear on the #78 car for the 96th running of the Indy 500, and throughout the 2012 racing season.
"We're very, very pleased to welcome back out partner TDS for the third year in succession," said Keith Wiggins, Lotus HVM Racing team owner. "We have a strong relationship with TDS and are looking forward to continuing to partner with them on business development."
"We're excited about teaming with Lotus HVM Racing and being their communications partner again this year," says Nick Ruskowski, market manager for TDS. "We believe this partnership offers us a chance to support a great event and an amazing driver. Plus, we get to be part of a team who shares our commitment to speed, reliability, and award-winning service."
Opening weekend at the Indianapolis Motor Speedway dawned bright and sunny with the Lotus HVM Racing team spending the majority of the day preparing the #78 Nuclear Clean Air Energy car for a late day run, while IZOD IndyCar driver Simona De Silvestro met with her engineers.
Shortly before happy hour began at 5:00 p.m. De Silvestro took the track for her first laps on an oval this season. The Swiss driver ran 18 laps total with a couple of stops in the pit to make adjustments to the setup of the car and finished the day having broken the 200 mph barrier. She did an additional 19 laps on Sunday and feels that progress is being made and that she will continue to go faster throughout this week's practice.
The Indianapolis Motor Speedway is open daily for practice from 12:00 p.m. to 6:00 p.m. this week with qualifying beginning on Saturday, May 19th at 11:00 a.m. for the first 24 positions and finishes up on Bump Day, Sunday, May 20th from 12:00 p.m. to 6:00 p.m. Both days of qualifying will be televised on NBC Sports Network. Tune in and root for Simona and the Lotus HVM #78 Nuclear Clean Air Energy car.
About TDS
TDS Telecommunications Corp. (TDS®) is the seventh largest telecom provider in the U.S. For more than 40 years, the company has been connecting people with high-speed Internet, phone, and TV entertainment services in hundreds of rural, suburban, and metropolitan communities across 31 states. Today, TDS has more than 1.1 million equivalent access lines in service and 2,700 employees. Business customers select from the latest technologies, including: VoIP (managedIP) phone service, dedicated Internet, data networking, and hosted-managed services. Visit http://www.tdstelecom.com or http://www.tdsbusiness.com for more information.
TDS Telecommunications Corp. also manages the operations of VISI Incorporated, TEAM Technologies, and OneNeck IT Services Corp. through TDS Hosted & Managed Services, LLC. These companies employ more than 350 people who specialize in providing hosted application management, managed hosting, cloud services, and next generation data centers. Visit http://www.visi.com, http://www.team-companies.com, and http://www.oneneck.com for details.
TDS Telecommunications Corp. headquartered in Madison, Wis. is a wholly owned subsidiary of Telephone and Data Systems, Inc. [NYSE: TDS]. A Fortune 500® company, Telephone and Data Systems provides wireless, local and long-distance telephone and broadband services to approximately 7 million customers in 36 states through TDS Telecommunications Corp. and U.S. Cellular [NYSE: USM], its majority owned wireless subsidiary. Founded in 1969 and headquartered in Chicago, Telephone and Data Systems employed 12,300 people as of March 31, 2012. Visit http://www.teldta.com for investor information.
About Lotus HVM Racing
HVM Racing was founded by Keith Wiggins and is based in Indianapolis, Indiana. The 2012 season marks its eleventh year of competition since forming in 2001. Since its inception, HVM Racing has earned six victories, two pole positions, 22 podiums, 40 top-five finishes and 97 top-tens. The team also earned "Indianapolis 500 Rookie of the Year" honors with current driver Simona De Silvestro in 2010. HVM finished fourth and third, respectively, in the Champ Car World Series in 2006 and 2007, and earned drivers Mario Dominguez and Robert Doornbos Rookie of the Year honors in 2002 and 2007, respectively. Lotus HVM Racing can be found online at http://www.hvmracing.com. Follow the team on twitter at http://www.twitter.com/HVMRacing and on Facebook at http://www.facebook.com/HVMRacing.
About Lotus
Group Lotus plc, is based in Norfolk, UK, and has three operating divisions: Lotus Cars, Lotus Engineering and Lotus Racing.
Lotus Cars builds world class, high performance sports cars including the award-winning Evora, the iconic Elise and the stunning Exige. Lotus New Era, the future product line-up, was unveiled in Paris on 30th September 2010 featuring the new Esprit, Elan, Elite, Elise and Eterne.
Lotus Engineering provides comprehensive and versatile consultancy services to many of the world's OEMs and Tier 1 suppliers and is an internationally recognised automotive engineering consultancy. Global facilities include those in the US, Malaysia, China and offices in Germany and Japan. Lotus is a global high-tech company, committed to driving forward technology for both Lotus Cars and its Engineering clients, spearheading research into such areas as hybrids, electric vehicles and renewable fuels.
Lotus Racing (formerly Lotus Motorsport) operates the motorsports activities of Lotus and includes the strategy to return the Lotus name to a great number of series including endurance racing with GT2, GT4 and LMP2, single seater racing with GP2, GP3 and IndyCar. Lotus also competes in Formula 1 with the Lotus F1 Team, racing in the iconic Black and Gold livery.
About Entergy
Entergy is the second largest owner and operator of U.S. nuclear energy plants. They operate or provide management services to 12 reactors at 10 sites. Entergy Corporation is an integrated energy company engaged primarily in electric power production and retail distribution operations. Entergy owns and operates power plants with approximately 30,000 megawatts of electric generating capacity and delivers electricity to 2.7 million utility customers in Arkansas , Louisiana , Mississippi and Texas . Entergy has annual revenues of more than $11 billion and more than 15,000 employees. For more information: http://www.entergy-nuclear.com and http://www.NuclearCleanAirEnergy.com; on Twitter at @NuclearCleanAir, and on facebook at http://www.facebook.com/NuclearCleanAirEnergy.