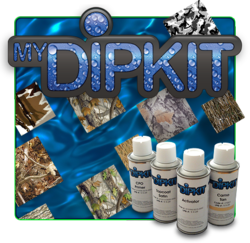 My gun stock came out amazing, I'm absolutely addicted to it! - Brian Anderson
Tyler, TX (PRWEB) May 21, 2012
MyDipKit is the premier do-it-yourself version of the commercial Water Transfer Imaging process, used to apply decorative finishes to any hard surface, such as metal, plastic, wood, fiberglass, and more. This is the same process used by gun and automotive manufacturers to print camouflage and wood grain patterns on their products.
"We created MyDipKit as an innovative way for do-it –yourselfers to customize all their own gear with a wide selection of over 100 patterns." said Robyn Kroell, President of MyDipKit, "Its ease of use, versatility, and professional looking results make MyDipKit a lot of fun!"
The MyDipKit offers over more than 100 film patterns ranging from camouflages, wood grains, animal prints and carbon fibers, your choice of several paint colors, a high or low gloss to give your dipped product a professionally finished look, and is well known for its exceptionally high standards of customer service.
"The staff and customer service of MyDipKit is second to none!" said Robert Spellmeyer, Distributor and longtime customer, "With top quality and fast shipping, customers are sure to receive the utmost in satisfaction."
MyDipKit has been the provider of do-it-yourself Hydrographic imaging kits since 2010, offering more than 100 patterns and several paints; MyDipKit prides itself on not only its customer service, but as the innovator in bringing the commercial hydrographic process to the everyday consumer.
If you would like more information about this topic, or to schedule an interview, please call Public Relations Manager, Dillan Payne at 903-939-3369 or e-mail at dpayne(at)mydipkit(dot)com