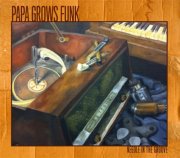 A great record ... master conceptual stroke ... an album that defines the band once and for all.
- OffBeat Magazine
New York, NY (PRWEB) May 21, 2012
Papa Grows Funk recently released their new album Needle In The Groove on Funky Krewe Records and for the 12th consecutive year, the group of all-star musicians performed at the New Orleans Jazz & Heritage Festival. You can view an official performance of "Make It Right Now" here.
Papa Grows Funk teamed up with the legendary Allen Toussaint and fellow 'who dat' Tom Drummond of Better Than Ezra to create "Mardi Gras in a bottle" with Needle In The Groove. The album is receiving a warm welcome at radio, currently #28 on the RMR Jazz Report and climbing up the FMQB TripleA albums charts.
STEREOPHILE calls Needle In The Groove, "A 70's funk record, one that both celebrates the form and pushes it forward" and RELIX names it, "A cohesive, ambitious and self-defining record that captures the energy of the band's live show."
Rooted in improvisation and led by Hammond B3 keyboardist and lead vocalist, John Gros, Papa Grows Funk has built its enthusiastic vibe on a long-standing musical tradition that dates back to the hot jazz of the legends, Fats Domino and Louis Armstrong. Like Dr. John and the Neville Brothers, Papa Grows Funk keeps that New Orleans lineage alive while always funkifying towards the future.
PGF will hit Florida at the end of May and will be on the road through the summer. A full list of tour dates can be found below.
"Vintage sounding funk tracks, which sound like they could have been time warped from the 70's."

"(Papa Grows Funk) make you feel like you're at an Earth Wind and Fire show in the soulful 70s… Anyone got some extra Afro Sheen?!? Git down!!!"

"Whew. The guys in Papa Grows Funk are giving the people just what they want. And that is... a big heavy dose of Louisiana funk delivered with gusto and style with some dashes of retro disco tossed in for extra flavor."

Buy Needle In The Groove on iTunes.
Buy Needle In The Groove on CD.
PAPA GROWS FUNK TOUR DATES
May 25 – Boca Raton, FL – Funky Biscuit
May 26 – Miami, FL – The Stage
June 1 – Covington, LA – Columbia St. Tap Room
June 2 – Bay St. Louis, MS – BridgeFest Time
June 15 – Houston, TX – Continental Club
June 16 - Lake Charles, LA - Luna Live
June 21 – Baltimore, MD – 8x10 Club
June 22 – Norfolk, VA – Bayou Boogaloo Festival
July 13 - Madison, WI - La Fete de Marquette Festival
July 14 – Chicago, IL – Martyr's Live
July 15 - St. Louis, MO - Broadway Oyster Bar
July 20 – Washington, DC – The Hamilton
July 21 – Toronto, ONT – Toronto Beaches Jazz Fest
July 22 – Annapolis, MD – Ramshead Live
July 27 – Asheville, NC – Bele Chere Festival
July 28 – Tidewater, OR – Blacksheep Festival
August 3 – Atlanta, GA – Smith's Olde Bar
August 4 – Chattanooga, TN – Riverfront Nights
August 17 – Norwich, NY – Chenango Blues Fest
August 22 - NYC, NY - NolaFunk Summer Jazz Fest
August 25 – Blain, PA – Kind Roots III Festival
Sept 14 – New Orleans, LA – Aquarium of Americas
Sept 22 - Austin, TX - Antone's
Sept 28 – Baton Rouge, LA – Chelsea's Cafe
Booking Contact: Blue Mountain Artists - 704-525-1559
"Do You Want It" FREE DOWNLOAD
Papa Grows Funk is:
John Gros - Hammond B3 organ and lead vocals
June Yamagishi - Guitar
Marc Pero - Bass
Jason Mingledorff - Sax
Jeffery "Jellybean" Alexander - Drums
http://www.youtube.com/user/funkygros
For more information, please contact:
Jeff Kilgour / Catie Monck
Tijuana Gift Shop
917.678.4420 / 646.285.1902
jeff(at)tijuanagiftshop(dot)net / catie(at)tijuanagiftshop(dot)net
"They are instruments of New Orleans music at it's best... Any way you drop the needle you will be pleasantly surprised and feel good about it."