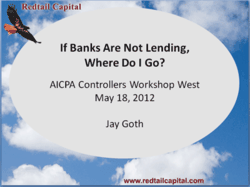 There are a lot of options you just don't think about
Temecula, CA (PRWEB) May 16, 2012
Jay Goth, an investment banker at Redtail Capital, will be speaking at the upcoming AICPA Controllers Workshop West, being held May 17 and 18 at the Bellagio Hotel and Casino in Las Vegas, Nevada. The topic is "When Banks Aren't Lending, Where Do You Go?" and will provide attendees with financing options including equity, debt, hybrids and a category called "none of the above."
"The goal is to open the eyes of financial executives to the fact that there are many financing choices available to them," according to Mr. Goth. "Often we start down a certain business path and if we hit a roadblock we keep trying to overcome it. Sometimes there is another path that can get you where you want to go more quickly. I would like to outline a number of options that companies can consider that will meet their goals."
The presentation will touch briefly on the passing of the JOBS Act earlier this year and the ramifications of this on companies moving forward. While crowdfunding has become a hot topic and will be addressed, changes to current private placement regulations are also important considerations. Another topic that may impact many companies is the goal of the legislation to fast-track companies to public status by creating an "IPO on-ramp."
The presentation will also look at new and innovative financing alternatives that can help companies raise money without selling equity or going through a loan qualification process. Additional traditional capital sources that may have been overlooked will also be highlighted.
"If each person attending leaves with at least one new funding idea, I will be a happy camper," Mr. Goth stated. "The fact of the matter is that there are many options out there and plenty of money available to be invested. You just have to fit your funding plan to your particular company's needs and decide on the best course of action."
The presentation will be held from 12:40 p.m. to 1:55 p.m. and is designed to be very interactive, with breaks for questions and plenty of opportunities for audience participation. A copy of the presentation will be available upon request after the meeting.
About Redtail Capital
Redtail Capital is a business advisory practice that assists companies with strategic planning, capital formation, valuations, and merger and acquisitions. The company's primary focus is on issues that affect everyone today, including energy, water, defense and technology. Located in Temecula, California, the company enjoys close proximity to Los Angeles, San Diego, Orange County and the Inland Empire. Securities offered through Independent Investment Bankers Corp. a broker-dealer, Member FINRA/SIPC. Redtail Capital is not affiliated with Independent Investment Bankers Corp. For more information, visit http://www.redtailcapital.com.