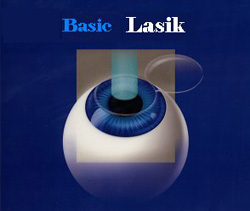 It's like waking up with a new pair of eyes.
ATLANTA, GA (PRWEB) May 19, 2012
On April 30th, Dr. Ashraf, Atlanta LASIK surgeon of the Atlanta Vision Institute, appeared on Atlanta & Company to talk about Presbyopia, a condition that affects millions of people. Presbyopia is the condition by which an individual loses the ability to see objects up close. The result of this condition is difficulty to read books, magazines, menus…anything that requires nearsighted vision. Presbyopia comes with age, typically occurring in the 40s range. Although there is no cure for the condition, there are treatments available. "We are now offering treatment for Presbyopia and we want everyone to know," says Dr. Ashraf.
Dr. Ashraf, board-certified ophthalmologist at the Atlanta Vision Institute, talks about how mono vision LASIK is a technique he utilizes in his facility for people that experience Presbyopia. He states that when mono vision LASIK is applied to the patient's eyes, the eye's inability to see up close is restored and the need for bifocals or contact lenses is eliminated.
"Mono vision can be done either with contact lenses or with surgery," explains Dr. Ashraf. "Mono LASIK surgery is great for people with Presbyopia because it helps improve the distance vision so that the patient won't require bifocals or mono vision contact lenses."
Dr. Ashraf was on a segment of Altanta & Company to speak to viewers about his plan to treat presbyopia with mono vision LASIK, which can be a great alternative to mono vision contacts or bifocals. Two of Dr. Ashraf's patients went on the show with him to reveal the experiences they had with their mono vision LASIK procedures. One patient by the name of Jacqueline Smith stated, "I had been wearing glasses and contacts for a number of years. I did some research and found Dr. Ashraf…with his credentials and the professional staff and excellent customer service, I decided this was for me." When hostess Christine Pullara asked Smith about life after LASIK, Smith's response was: "It's like waking up with a new pair of eyes."
The second guest on Atlanta & Company, Kelly Reeve, is also a patient of Dr. Ashraf's and went into detail about her experience of enduring Presbyopia and being treated with mono vision LASIK: "I had mono vision contacts where I only wore one contact. The surgery was quick and I didn't have any discomfort. It's been a year and I'm still amazed at driving at night how everything is so crystal clear."
Dr. Ashraf pointed out on the segment that most people avoid getting LASIK due to fear. But his patients on the show illustrated zero hesitation for describing the great level of comfort they experienced throughout the entire LASIK process. Both Smith and Reeve talked about how Dr. Ashraf and his professional staff put their anxieties at ease and answered their questions and concerns from beginning to end.
Dr. Ashraf has performed over 35,000 LASIK surgeries with patients in Atlanta and in the Middle East as well, specifically in Dubai, which makes him one of the most experienced LASIK surgeons around the world. He and the rest of the staff at Atlanta Vision Institute strive to make the patients' experiences as delightful as possible. If you're considering LASIK surgery, visit the website for more information about Dr. Ashraf at http://www.atlanta2020.com, or call 770-622-2488 to book an appointment.